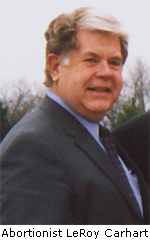 Germantown, MD – Pro-life groups and members of the Clergy will gather outside the Germantown Reproductive Health Services abortion clinic on Monday morning to oppose abortionist LeRoy Carhart's late-term abortion business on its first day of operation.
"The eyes of the nation are on the pro-life and faith community right now to see how it will respond to this atrocity," said Operation Rescue President Troy Newman. "Based on the response we have seen over the past several days, it is apparent that the hearts of Marylanders and others throughout the area have been moved by the plight of the innocent babies that that have been placed at risk by Carhart's arrival in Maryland and have determined that late-term abortions – or any abortions for that matter – are not welcome in Germantown."
It has been learned that the condo association that controls the business part where the abortion clinic is located is having an emergency meeting on Monday at noon, in the middle of the peaceful pro-life witness, to decide what to do about the addition of Carhart's late-term abortion business, which has taken the area by surprise and shock.
"Please join us in praying that this meeting will result in the eviction of the abortion mill from this business park and that the clinic would close for good," said Newman.
Operation Rescue is encouraging all who can to attend the press conference beginning at 11:00 AM outside Germantown Reproductive Health Services located at 13233 Executive Park Terrace in Germantown, Maryland, and stay for prayer and peaceful protest until 1:00 PM.
Watch the press conference LIVE at this link: http://kickoutcarhart.com/press_conf.html.
Download the Carhart "Reign of Terror" brochure.
For more information visit www.KickOutCarhart.com.