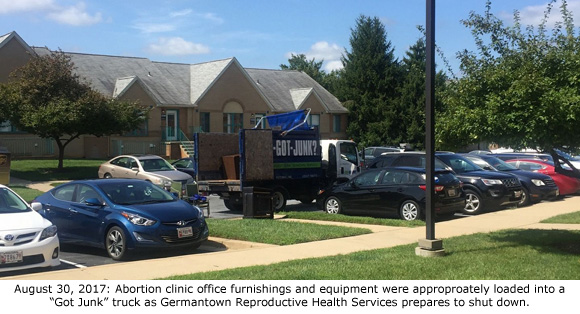 By Cheryl Sullenger
Germantown, Maryland – Somehow, calling the 1-800-Got-Junk people seemed appropriate for Germantown Reproductive Health Services as it prepared for its permanent closure.
A local pro-life activist snapped a photo of a junk truck at GRHS on August 30, 2017, as it was loaded up with office equipment and furnishings from the notorious late-term abortion facility.
"I'm not sure there is a sweeter sight than a junk truck coming for the contents of an abortion facility," said Operation Rescue President Troy Newman.
GRHS and an affiliated abortion facility, Prince Georges Reproductive Health Center, have been bought and closed by the Maryland Coalition for Life.
It was Operation Rescue that first identified GRHS as the new location of LeRoy Carhart's late-term abortion business in 2010, after Carhart's home state of Nebraska passed the first-in-the-nation 20-week ban on abortions due to evidence that pre-born babies can feel pain.
GRHS was one of the few facilities to conduct abortions throughout all nine months of pregnancy.
So, what will Carhart do now that GRHS is closed? Read Operation Rescue's recent report for a "heads up" on possible plans.
Note: The above photo is from a pro-life activist who is not affiliated in any way with the Maryland Coalition for Life.