By Cheryl Sullenger

Lansing, MI — A scathing report has been issued by Michigan Administrative Law Judge Shawn Downey, who has found that Muskegon abortionist Robert Alexander is responsible for negligence and incompetence under the state's Public Health Code in a case involving filthy "Gosnell-like" conditions at Alexander's Muskegon abortion business.
Judge Downey based his conclusions on testimony and evidence presented at a disciplinary hearing held on September 3, 2014. His report has been forwarded to the Michigan Board of Physicians, which will later decide on a course of disciplinary action that could include license revocation.
"Anything short of permanent license revocation is completely unacceptable," said Operation Rescue President Troy Newman. "Alexander has proved time and again that he is unfit to practice. Given the dangerous conditions and appalling practices that endangered the lives hundreds of women. Discipline should be swift and severe."
The judge noted in his 9-page opinion that Alexander "failed miserably in his obligation of due care" and that the Bureau of Health Care Service proved their case against him by "overwhelming evidence."
The case began when Operation Rescue filed a complaint against Alexander in September, 2012, based on information provided by a former employee of Alexander's, who alleged that squalid conditions and horrific practices at Alexander's Women's Medical Services abortion facility put women's lives at risk.
A broken window and a triggered alarm over the Christmas holidays in 2012 bought police to Alexander's facility where squalid conditions similar to those described in Operation Rescue's complaint were in fact discovered. Photos and reports were forwarded to the Board investigator that was assigned to the Operation Rescue complaint.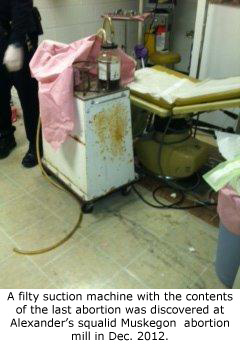 The conditions rivaled those found in Kermit Gosnell's West Philadelphia "House of Horrors" and earned Alexander the nickname as the "Gosnell of Michigan."
Alexander publicly blamed Operation Rescue and other pro-life activists of breaking into his facility and staging the filth and disarray. He used this excuse for the squalor as a defense during his disciplinary hearing earlier this month.
Judge Downey wrote in his opinion, "I am persuaded that the Muskegon Police officers were repelled by their discovery of the interior of Dr. Alexander's clinic. . .Detective [Clay] Orrison testified that he was convinced that the disarray found in the clinic on December 26, 2012 had not been 'staged."
So horrific were the conditions at the abortion facility that "the Fire Marshall determined the building could not be occupied and issued an [sic] Cease and Desist Order which ordered that the premises could not be used in the current condition as it was unsafe and dangerous to human life."
"I do not find that Robert Lewis Alexander is a credible witness," Judge Downey continued. "I do not find this man to be honest or trustworthy. At each turn, [Alexander] blamed someone else for the conditions found at his medical clinic. Two previous employees credibly testified that the conditions shown in the eighty-plus photographs. . .were the conditions that existed every day while this man operated his clinic and performed medical services."
Alexander admitted during the hearing that he suffered from Bipolar Disorder, a mental illness for which he is heavily medicated.
"I mean, to be honest with you, as I listen to Dr. Alexander tell me about all the various symptoms that a person may have, I question whether anyone should be practicing medicine with a lot of those symptoms," said the Judge Downey during the hearing.
Alexander has a long history of troubles, including numerous botched abortions — one that nearly killed a patient. In 1990, Alexander's medical license was revoked and he spent time in a Federal prison for selling illegal prescriptions. In 1994, Alexander was ordered to undergo a mental health evaluation and his license was once again revoked. A former head of the State Board of Medicine, Dr. George Shade, a friend of Alexander's who served on the medical board, improperly used his influence to help Alexander get his license back then improperly protected him from further discipline by ordering that there be no investigation of a 2009 complaint filed by the obstetrician of two patients that suffered botched abortions by Alexander.
Since then, a new regulation in Michigan called "Alexander's Law" was enacted that requires that a panel of three Board members to authorize or stop a state licensing investigation.
Currently, Alexander is not practicing, but his medical license remains active. A final decision by the Michigan Board of Physicians could take months.
"Justice in this case can't come too soon," said Newman.
Read the full Administrative Opinion
(Provided to Operation Rescue by Lynn Mills)