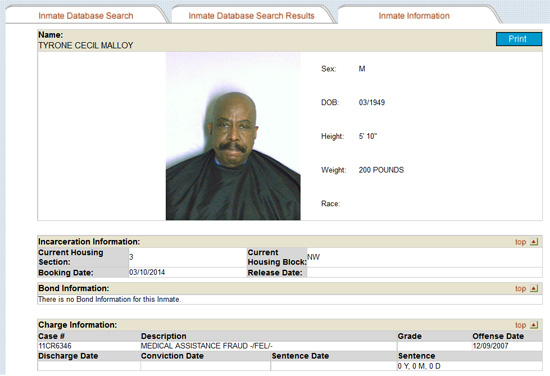 By Cheryl Sullenger
Atlanta, Georgia – Abortionist Tyrone Malloy has been criminally convicted of two counts of Medicaid fraud and sentenced to 4 years in prison, followed by 6 months of probation.
Malloy is currently incarcerated in the DeKalb County Jail where he was taken into custody on March 10, 2014, following the verdict in his two week trial. Malloy was formally sentenced on March 21.
Malloy was charged with charging Georgia Medicaid $386,000 for abortion-related office visits and ultrasounds that were never done. Hyde Amendment prohibits the use of Federal funds to pay for abortions.
"With Tyrone Malloy in jail, our tax dollars are no longer lining his pockets. In addition, pregnant women and their babies are protected from Malloy's corruption and his shoddy medical practices. We are grateful that this criminal is behind bars today where he belongs," said Operation Rescue President Troy Newman.
Malloy attempted unsuccessfully to challenge the Hyde Amendment after his arrest in 2011, saying the provision was unconstitutionally vague, but the court that heard the case ruled that billing for abortion-related services is clearly prohibited, and that Malloy should have known that.
Attorney General Sam Olens considered fraudulent Malloy's practice of charging Medicaid for peripheral services related to abortions, such as office visits and ultrasounds.
Malloy will face a restitution hearing at a later date to determine how much money he must repay the state, according to a press release published by the Attorney General's office.
Malloy co-owned the Old National Gynecology with the wife of U.S. Attorney General Eric Holder, who failed to disclose his family's involvement in abortion. Pro-life advocates, including Operation Rescue's Newman, believed that Holder's connections to the abortion cartel may have influenced him engage in a campaign to aggressively prosecute pro-life advocates.
Unfortunately, despite Malloy's criminal conviction and incarceration, his Old National Gynecology abortion clinic continues to operate, having simply employed another abortionist.
"It seems just plain wrong that Malloy is allowed to continue to profit from abortions," said Newman. "We call for the immediate closure of Old National Gynecology to prevent this criminal from receiving any further financial benefit from the killing of innocent babies."
Malloy also had a history of discipline by the Georgia Medical Board.
In 2009, he was issued a reprimand and ordered to pay $10,000 in fines for the death of an abortion patient. The Board found that Malloy lacerated the woman's cervix, ruptured her uterus, and injured her bowel. While in the recovery room, the patient went into cardiac arrest and was transferred to Atlanta Medical Center where an emergency hysterectomy and bowel repair failed to save her life.
In 2004, Malloy was also reprimanded an incident involving the death of a wanted baby. Malloy was found to have violated the standard of patient care when he left the hospital without informing the primary physician that a pregnant woman he was monitoring suffered a high fever and fetal distress. Eventually, the woman underwent an emergency C-Section delivery, but her baby died as a result of Malloy's negligence.