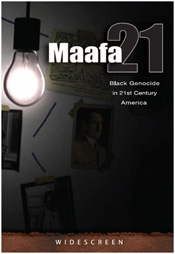 Wichita, KS – Three years in the making, Mark Crutcher and Life Dynamics, Inc. have released a powerful new documentary exposing Black genocide through abortion in the 21st Century. It will be shown in Wichita, Kansas, on Thursday, July 9, 2009.
The documentary is called "Maafa 21." This is how Life Dynamics, Inc. describes it:
They were stolen from their homes, locked in chains and taken across an ocean. And for more than 200 years, their blood and sweat would help to build the richest and most powerful nation the world has ever known.
But when slavery ended, their welcome was over. America's wealthy elite had decided it was time for them to disappear and they were not particular about how it might be done.
What you are about to see is that the plan these people set in motion 150 years ago is still being carried out today. So don't think that this is history. It is not. It is happening right here, and it's happening right now.
"We have long known that Black women are disproportionately targeted for abortion in this country, but this video explains why. It's time we all knew the shocking truth," said Operation Rescue President Troy Newman, who co-hosts the monthly news program LifeTalk with Crutcher.
"Mark Crutcher has done a masterful job documenting what has become America's dirtiest little secret. Every American should see Maafa 21."
Showing Details:

Thursday, July 9, 2009 at 6-9 PM
Operation Rescue's National Headquarters located at 3013 E. Central in Wichita.
This showing is free of charge.

An update on plans to keep Wichita abortion-free will also be given. Please invite your friends. Seating is limited and will be on a first-come first-serve basis.