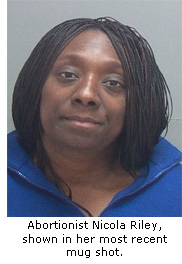 Baltimore, Maryland – The Maryland Board of Physicians has permanently revoked the license of abortionist Nicola I. Riley in a scathing 24-page order issued May 6, 2013, that prohibits her from ever again applying for licensure or reinstatement of her license.
"In view of the fraudulent and deceptive nature of Dr. Riley's criminal conduct, her demonstrated lack of candor and integrity on her application to the Board and to Utah and Wyoming, and her demonstrated propensity for dishonesty and misrepresentation, Dr. Riley's unprofessional conduct is not remediable," stated the Board. "In light of the unprofessional manner in which she treated this critically damaged patient, the Board does not believe that Maryland patients would be safe in the hands of this physician. Dr. Riley's fraudulent acts and unprofessional treatment of the patient merit the permanent revocation of her medical license in this State."
Riley's license was first suspended in September, 2010, after having perforated the uterus and pulled out a bowel of a patient at a secret late-term abortion clinic in Elkton operated by the notorious abortionist Steven Chase Brigham. Complaints were filed by the Elkton Police and a physician at a Baltimore hospital where the patient was air-lifted for emergency surgery that saved her life. Physicians who treated the patient found that part of her fetus had been shoved into her abdominal cavity when Riley ruptured her uterus. Her ability to bear children in the future is in doubt. [Read the full account with links to Board Interview Transcripts]
Police raided the Elkton facility and found the remains of 35 frozen late-term aborted babies. Riley and Brigham were arrested and charged with murder of the babies, but charges were dropped when an expert witness who planned to testify that all the babies died in Maryland withdrew from the case under pressure from the abortion lobby.
Brigham, who has no license in Maryland, operated the clandestine bi-state abortion business that was designed to evade the laws that banned him from doing abortions in New Jersey after 14 weeks. Maryland has no gestational limit on abortions, making it a haven for those who seek quick profits from the lucrative late-term abortion market where fees can range from several thousand to tens of thousands of dollars.

Brigham would begin the very late abortions at his office in Voorhees, New Jersey, then caravan the women in full blown labor down to Elkton, Maryland, where the abortions would be completed with the aid of Riley. Brigham asserted that since all the babies died in New Jersey on the first day he saw them that Maryland had no jurisdiction to prosecute him. New Jersey has failed to pursue a criminal case against Brigham.
Riley was reamed by the Board for failing to have an emergency plan for complications at the Elkton abortion clinic, failing to call for emergency help for at least an hour and a half after she pulled the bowel during a difficult abortion, and for transporting her critically injured patient to a nearby hospital in the back seat of Brigham's rental car.
Of the decision to transport the patient in a private vehicle, the Board stated:
Dr. Riley's decision was also faulty and unprofessional because it involved lifting up a consciously sedated ad slumped-over patient in order to move her from the operating table to a wheelchair, from a wheelchair to the car, and from the car onto another wheelchair before arrival at the Union Hospital ER…The patient's bowel, usually in a sterile compartment in the abdominal cavity, was protruding in to her unsterile vagina. [An expert for the State] opined that lifting her up, putting her in a seated position and moving her around in this manner risked further prolapsed of bowel into that area and causing injury to a longer length of bowel.
"Transporting patients via personal vehicle is an all-too common practice in the abortion industry, which is done to conceal the fact that a patient suffered an injury," said Troy Newman, President of Operation Rescue. "Abortionists everywhere must be held accountable when they engage in this dangerous practice."
Riley was also found to have engaged in fraud and deception when she blatantly lied on her Maryland medical license application about a previous felony conviction. The Board also found that Riley lied to obtain licensure in Wyoming and her home state of Utah.
Riley downplayed a "no contest" felony conviction while serving in the military in 1990, indicating that she failed to report an identity theft and credit card fraud scheme that was being carried out by others under her command. She told the Board that the military records were "sealed due to my top secret security clearance" and that her personal records had been destroyed in a storage fire, giving the Board the false impression that her criminal records were unattainable.
In reality, Riley pled guilty to her direct involvement in the identity theft and credit card. Riley would take personal information of other servicemen and fraudulently obtain credit cards that she would use to purchase expensive jewelry and other items.

Operation Rescue discovered Riley's conviction and obtained her court records from the U.S. Army, which were then forwarded to Wyoming and Utah. As a result, Wyoming forced Riley to relinquish her medical license. However, Utah was slow to act and allowed Riley to continue practicing under the restriction that she not engage in the practice of abortion.
"We have forwarded Riley's Maryland revocation decision to the authorities in Utah and have urged them to permanently revoke Riley's fraudulently-obtained license there as well," said Newman.
As for Brigham, there is nothing the Maryland authorities can legally do.
"Unfortunately, because Riley's cohort, Brigham, has no license in Maryland, he is outside their jurisdiction and cannot be punished," said Newman. "His New Jersey medical license, the only one he has left, is under suspension, but that has not stopped him from operating his chain of abortion clinics that continue to prey on vulnerable in at least three states."
Recently, Brigham's two remaining Pennsylvania abortion clinics were forced to close, but he continues to operate abortion clinics in New Jersey, Maryland, and Virginia.
"If Riley is too dangerous to see patients in Maryland, that means she is too dangerous to see patients in Utah or any other state. It also means Brigham is too dangerous to continue operating his shady abortion clinics as well," said Newman.
Please contact the Utah Department of Occupational and Professional Licensing (DOPL) and ask that they immediately revoke Nicola I. Riley's Utah medical license now that she has been found by Maryland to pose a danger to the public.
Contact DOPL
Voice: (801) 530-6630
E-mail: DOPL@utah.gov