Decades of disciplinary leniency allowed Aalai to run substandard, often illegal abortion businesses

By Cheryl Sullenger
Annapolis, Maryland – Abortionist Mehrdad Aalai, a former associate of the notorious New Jersey abortionist Steven Chase Brigham, has surrendered his Maryland medical license and closed down his abortion clinic, Annapolis Road Gynecology.
In a letter to a Maryland State Board of Physicians Disciplinary Review Panel dated March 12, 2014, Aalai states that he decided to voluntarily surrender his medical license and retire rather than face additional investigation and disciplinary action.
"I have decided to surrender my license to practice as a physician in the State of Maryland as I plan to retire from the practice of medicine because of my age and present health, and I wish to avoid further investigation and prosecution for violating the Medical Practice Act and the terms and conditions of the Board's Final Order," Aalai stated in his letter.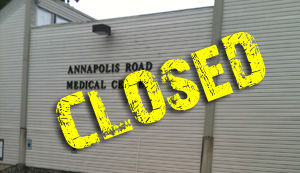 Operation Rescue confirmed that Aalai had stopped practicing and has closed down his abortion clinic through a covert phone call to Aalai's abortion clinic phone number, which was answered personally by Aalai.
"I no longer do abortion. They close my clinic," he stated.
Operation Rescue had lodged complaints last year about Aalai's abortion clinic operating illegally without a license.
Aalai had worked for Steven Brigham at his Cheverly and College Park abortion clinics, which were closed by the State of Maryland last year for repeated health and safety violations that placed women in danger.
Certainly, Aalai epitomizes the substandard practices that can be expected from Brigham abortionists.
Aalai's troubles date back to May 31, 1994, when he pled guilty to one count of Medicaid fraud in a case involving destruction and/or alteration of medical records and obstruction of justice. He was sentenced to three years in jail, which was suspended in lieu of fines and three years of probation. He never spent a day behind bars.
Based on his criminal conviction, Aalai's Maryland medical license was revoked.
However, in 1996, the Maryland Board of Physicians disturbingly reinstated his medical license and placed it on three years of probation. That is a decision that would have dire future consequences, especially for a woman known only as Patient A.
"Aalai's case is an indictment of the Maryland Board of Physicians' practice of coddling abortionists and refusing to implement serious sanctions on those who engage in abortion abuses," said Operation Rescue President Troy Newman. "If the Board had not reinstated his license after his criminal conviction, women who suffered from his negligence would have been spared."
Years later, on October 23, 2007, Patient A presented at the Brigham-owned American Women's Services in College Park, Maryland, for an abortion. She was 22 weeks pregnant.
Patient A saw Aalai, who began her abortion by packing her cervix with laminaria and told to return the next day. The next day, Patient A returned to Aalai, who removed the laminaria and inserted another round. At some point, which was never recorded in her medical record, her water broke. Aalai sent her back to her hotel and told her to return again the following day.
On the third day, the abortion was done, but Aalai had difficulty delivering the placenta. The procedure reached well into the evening hours without a successful removal of the placenta.
Aalai gave up trying.
He indicated to Patient A that her placenta was never removed. He recommended that she visit a local hospital for further treatment, but never explained that her condition was urgent and life-threatening. She told Aalai that she preferred to return to her home 4 hours away and see her regular physician. Aalai agreed she could go. She was given no discharge instructions.
Patient A's mother loaded her into the car and began the long drive back to Virginia. Along the way, Patient A fell asleep and her mother reached over to awaken her. It was then she noticed that her daughter was soaked in blood. Her mother pulled over to the nearest gas station and told her daughter to go to the restroom and clean herself up. When Patient A did not return to the car, her mother went to the bathroom and discovered her slumped over the toilet with blood everywhere.
Her mother called 911. When the paramedics arrived, they were shocked at what they saw. Because the scene was so bloody, they called police, thinking that Patient A had tried to give herself an abortion in that gas station restroom. Once police arrived and discovered the truth, Patient A was transported to a local hospital shortly before midnight where she was found to be in hemorrhagic shock from massive blood loss. She received emergency surgery to remove the placenta and other "products of conception" still inside her. She was also given two units of blood.
The physician that treated Patient A at the hospital filed a medical board complaint against Aalai for endangering the woman's life.
A disciplinary judge who heard Aalai's case found him to be not credible and ruled he was guilty of immoral and unprofessional conduct in his treatment of Patient A. He issued a recommendation that Aalai's license once again be revoked.
Instead, the Board merely suspended his medical license for six months and placed him on two years of probation. That order was signed on December 28, 2011.
In an inexcusable act of leniency to a man that had repeatedly offended without remorse, the Board ordered that the remainder of his suspension be stayed after serving only three months of his suspension and placed him on a two-year probation.
Aalai quit working for Brigham and concentrated on his own business, the Maryland Women's Abortion Clinic in Bladensburg.
Operation Rescue discovered during an investigation in June 2013, that after Maryland's clinic licensing provisions were passed in 2012, Aalai dropped that name and simply adopted the name of the business complex, Annapolis Road Medical Center, which housed his clinic.
But little had changed of his practice besides a shuffling of paperwork. He continued to operate his abortion business full time at the same address and phone number illegally without having applies for clinic licensure as required by law.
Three months after Operation Rescue's complaint against Aalai for operating an abortion clinic without a license in violation of his probation reached the Maryland Board of Physicians, new charges were filed against him for failing to keep proper medical records for six abortion patients. The Board was seeking further disciplinary action due to the fact the violations took place while Aalai was on probation.
"Why this guy was allowed to conduct an abortion business illegally is beyond us. His clinic should have been shut down months ago," said Newman. "However, it appears our complaints applied the final pressure that prompted him to finally call it quits."
Newman continued, "Aalai must have seen the handwriting on the wall and understood that the complaints and investigations would never stop. If the Board had stood its ground and refused to reinstate him 18 years ago, they would have saved themselves and his patients nearly two decades of grief. Extending leniency to abortionists is just asking for more trouble. Thankfully, Aalai has voluntarily stepped aside and spared us from the possibility that more weak-kneed measures could have allowed this quack to continue to run amok over the law and the lives and health of women."