See Update Below
By Cheryl Sullenger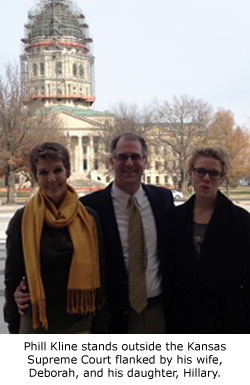 Topeka, KS – A 92-page motion was filed on December 3 with the Kansas Supreme Court on behalf of former Kansas Attorney General Phill Kline asking for a rehearing of an ethics case against him or a modification of the Court's ruling that indefinitely suspended his license to practice law.
The motion, filed by Tom Condit, challenged the conclusions of the Court, which was comprised of five temporary members who replaced five Justices that recused themselves from hearing the final oral arguments in Kline's long-running ethics case.
"Reading Kline's Motion for Rehearing or Modification brings home the injustice that continues to reverberate throughout Kansas, which has placed abortionists above the law and prosecutors under fear of enforcing the law," said Troy Newman, President of Operation Rescue. "The court system has convicted the wrong person and let the criminals go free only to re-offend."
In the Court's October 18, 2013 ruling, Kline was found to have committed 11 violations of the Kansas Rules of Professional Conduct (KRPC) in the course of six fact scenarios. Condit challenged each of these, noting that the decision was based on errant reasoning, including factual errors and misrepresentations, misapplication of law, and a "palpable double standard governing truth and error in attorney communications" that the justices themselves could never hope to survive if scrutinized to the same extent as Kline.
The case stems from Kline's attempt to enforce Kansas laws related to the non-reporting of child sex abuse and illegal late-term abortions. His investigations and attempted prosecutions of two abortion providers took place during his tenure as Attorney General from 2003-2007 and as Johnson County District Attorney from 2007-2009. The abortionists who were the focus of Kline's investigations were George Tiller of Wichita and Planned Parenthood of Overland Park, which fought a bitter legal battle to not only derail Kline's investigations, but to vilify him in order to discredit his cases against them.
"It is doubtful that any criminal suspect in the history of this nation has ever so successfully used a high court to thwart legitimate investigations while persuading the judicial branch of government to put the prosecutor on trial," the motion stated, noting that the complaints against Kline filed by his political adversaries were "dripping with ideological warfare."
Biased political climate
After years of pitched court battles, Kline filed 30 criminal charges against Tiller related to illegal late-term abortions and 107 counts against Planned Parenthood for illegal late-term abortions and manufacturing evidence to cover their crimes. Both cases were dismissed but not on the merits of either case. In fact four Kansas judges ruled that there was probable cause to believe that the abortion providers committed crimes.
In the case involving Tiller, Kline's case was dismissed due to a spurious jurisdictional dispute, an appeal of which was withdrawn by Kline's pro-abortion successor. The Planned Parenthood case was dismissed due to criminal destruction of evidence by an undetermined person or persons in the Attorney General's office under one of two hand-picked minions of former Gov. Kathleen Sebelius, a radical supporter of unrestricted abortion. In an indication of political corruption aimed at protecting abortionists who were breaking the law, there has been little effort to discover who destroyed the evidence and bring them to justice, while the trumped-up ethics case against Kline was vigorously pursued.
Bias against Kline based on political ideology reared its head at every stage of the proceedings.
Because of the fierce political climate created by former Gov. Sebelius that endeavored to obstruct abortion clinic investigations, which was reinforced almost daily by Kansas abortion providers and editorial writers who wove "their public relations masterpiece of deception" against Kline, the investigations were harmed and confidential witnesses became afraid to provide further evidence, according to Kline's motion documents.
Limits on Kline's defense
In his defense, Kline's motion states several areas that are grounds for either a rehearing or modification of the disciplinary order, the first of which is that his appeal brief unfairly was restricted to a mere 80 pages when the Panel Report condemning him was 185 pages. This restriction prevented Kline's attorneys from fully developing his defense.
"Catch 22" of conflicting orders
In issuing their disciplinary ruling, the Court found that Kline violated ethics rules when he attached a sealed document to a brief in the Alpha, Beta v. Kline case. This was a secret Writ of Mandamus lawsuit against Kline filed by Tiller and Planned Parenthood under seal that sought to prevent Kline from obtaining abortion records through a subpoena issued by Judge Richard Anderson, after Anderson determined that there was probable cause to believe that crimes had been committed by the abortionists. Eventually, Kline would win this suit and was provided redacted abortion records from both abortion clinics.
However, Kline's motion states that the Court in disciplining Kline misrepresented facts and ignored exculpatory evidence in reaching that conclusion. Kline and his staff were forced to navigate between two conflicting orders issued by the Kansas Supreme Court during the Alpha case. The first order placed the case under seal, meaning that the proceedings and record were secret and could not be discussed in public. The second order directed the parties to file public briefs and conduct oral arguments in an open courtroom.
The abortion clinics filed a "deceptive brief" according to Kline's motion, and conducted a press conference revealing Tiller and Planned Parenthood as the identities of the "Alpha" and "Beta" petitioners. This set off a "firestorm" that led the public to believe that Kline was "a threat to the privacy of women and their medical records."
In fact, Kline sought no patient identities and none were ever revealed.
Kline sought ways as the State Attorney General to balance the conflicting orders and address the public misinformation that was eroding public confidence in Kline's office and harming his investigation by scaring potential witnesses away from cooperating.
Kline and his prosecutors sought guidance from the Appellate Court Clerk, but received none. After several discussions amongst his staff, Kline heavily redacted sealed documents that were necessary to helping the Court clearly understand the issues involved and attached them to his brief. The integrity of the seal was maintained while the facts could be clearly presented in open court.
The conflicting orders put Kline in a "Catch 22" situation that it is doubtful any attorney could have successfully navigated. By failing to mention the record, Kline could be accused of misrepresenting facts. By including heavily redacted portions of the record, he was accused of disregarding a court directive.
Perjured testimony trumps Grand Jury transcript
Kline was also found to have violated ethics rules by giving misleading advice concerning the Aid For Women case to a citizen-called Grand Jury convened to investigate Planned Parenthood. Aid for Women was a suit challenging Kline's non-binding opinion issued as Attorney General at the request of a State Legislator that stated he believed that reporting of sexual activity in children under 15 was required to be reported under the state's mandatory reporting law. The ruling found that sexual activity that was suspected of causing harm must be reported, but conduct between consensual age-mates need only be reported if it is suspected that it caused harm.
In one of the most egregious decisions by the Court that disciplined Kline, the Court treated as fact perjured testimony from a grand juror even though it was clear from the Grand Jury transcript that Kline accurately related Kansas law to the grand jury as it stood at that time. In finding that Kline committed an ethics violation, the Court had to completely disregard the official grand jury transcript in preference to testimony from a person that was not accurately relating Kline's words.
That incident alone should be enough for the Court to rehear Kline's defense.
"It is fair to say that a Court Opinion that began with a tone of neutrality and moderation eventually morphed into a biting criticism…falsely signaling to readers that Mr. Kline lied and lied again for his own selfish reasons," stated Kline's defense, when in fact, Kline was acting in good faith every step of the way.
Recent events validate Kline's actions
In the end, four judges agreed that there was probable cause to believe Tiller and Planned Parenthood committed a total of 137 serious crimes related to illegal late-term abortions. The merits of those cases was never in question and never received a trial.
Since then, events have transpired that validate Kline's charges against Tiller and Planned Parenthood. Despite the findings of a politically biased Disciplinary Board, time has proven what Kline's investigations had uncovered: Kansas abortion clinics were breaking the law.
Abortion clinic concealment of child rape
Kline's allegations were confirmed with the 2006 rape conviction of Robert Estrada who began to sexually abuse his two step daughters when they were just 11 and 12 years old. Estrada impregnated the 12-year old then took her to a Wichita abortion clinic where she received an abortion without a suspected abuse report being filed. Estrada continued to rape both girls for four more years, resulting in a total of four pregnancies. I reported on this story on Operation Rescue.org. Kline forwarded the abortion records obtained during his investigations to Sedgwick County District Attorney Nola Foulston, who falsely told reporters Kline had nothing to do with the case. In an apparent cover-up, the abortionist was never held accountable for his actions either criminally or by the Kansas Board of Healing Arts where Operation Rescue filed a complaint against him. Kline's investigations into abortion clinics that hid child sex abuse was thwarted by attorneys for the investigation's targets and Kansas oversight agencies, such as SRS and KDH&E. Kline was never able ascertain if over 160 minor girls aged 14 and younger who had been subjected to abortions were safe or still in danger from continued abuse thanks to the Sebelius Administrations' obstructive legal interference.
Illegal late-term abortions in Wichita
While Kline's 30 criminal counts against late-term abortionist George Tiller never saw the inside of a courtroom, Tiller was later charged by the Kansas Board of Healing Arts on 11 counts of illegal late-term abortions based on a complaint filed by Operation Rescue in 2006 and amended in 2007. While Tiller's disciplinary case was never fully adjudicated due to his death, the Kansas State Board of Healing Arts later revoked the medical license of Ann Kristin Neuhaus, the abortionist who provided Tiller with the second referral that was then required by Kansas law for each post-viability abortion. Neuhaus's revocation were based on the same 11 counts with which Tiller had been charged. The KSBHA found that Neuhaus improperly concluded that abortions were necessary based on her phony and negligently conducted mental health screenings. Testimony revealed that abortions done based on Neuhaus' referrals were illegal. Kline's allegations had been on the mark.
Illegal late-term abortions at Planned Parenthood and manufacturing evidence
As Johnson County District Attorney Kline filed 107 criminal charges against them for illegal abortions and manufacturing evidence to cover their crimes. The case was supported by probable cause findings from three Kansas judges. Kline's successor, Steve Howe, was a political rival with a grudge against Kline for once firing him. The case under Howe was marred by scandal. Evidence against Planned Parenthood was apparently shredded by an undetermined person in the Attorney General's office while under the control of either Paul Morrison or Steve Six, both Sebelius lackeys and Kline's political enemies. Eventually the evidence destruction paved the way for the dismissal of all Kline's charges against Planned Parenthood – not on the merits, but on the fact that evidence had been destroyed. This destruction of evidence was a serious crime, yet to this day, no one is trying to determine who was responsible. In fact, the case's merits were never considered in the dismissal arguments, a testament to their validity.
In all, these abortion clinics got away with their crimes. This has served to empower Kansas abortion to continue to ignore the law knowing that no prosecutor will dare to investigate them lest Kline's fate befall them. This attitude of being abortionists being above the law continues to place the lives and health of women at risk
"There is no doubt in our minds, based on our experience consisting of hours and hours of attending court hearings, reading volumes of court pleadings and transcripts, and our first-hand involvement in events related to Kline's abortion clinic investigations, that Kline is a good and honest man who was railroaded by a corrupt political environment that warped and distorted every word and action into some nefarious plot," said Newman. "When politics and political ideology infect the court system, we can only expect injustice and erosion in the people's confidence in the system. In order to restore some of that confidence, we hope the Court will reconsider Kline's discipline and dismiss this spurious ethics case against him in the interest of justice."
Read the Full Motion of Respondent Phillip D. Kline For Rehearing or Modification
UPDATE Dec. 10, 2013: In record time, the Kansas Supreme Court denied Kline's Motion for Rehearing today and in doing so only reinforced our concerns that political bias has infected the state's highest court.