Activists also witness workers moving office contents out of Pendergraft's Ocala abortion facility, which is now permanently closed.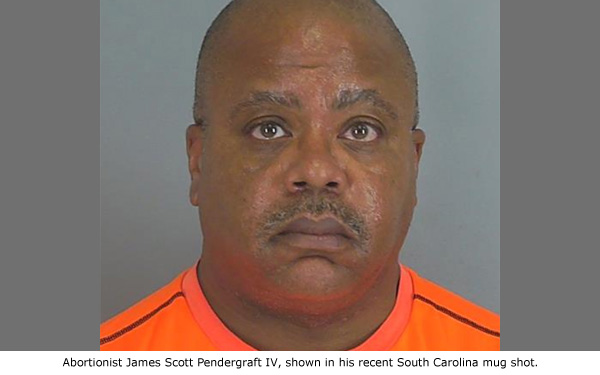 By Cheryl Sullenger
Spartanburg County, SC — According to court records, late-term abortionist James Scott Pendergraft IV has been indicted by a grand jury on a total of six drug-related charges, including what appears to be posession of LSD. The "true bill" indictments were recorded on May 6, 2016.
Pendergraft, a notorious late-term abortionist from Florida, was initially arrested on October 5, 2015, during a traffic stop in South Carolina. There, sheriff's deputies discovered surgical implements that were covered in blood and human tissue from abortions he had illegally performed throughout South Carolina. He was also in the possession of illegal narcotics.
At the time of his arrest last fall, Spartanburg County Sheriff Chuck Wright told a press conference, "We got a guy and a girl early in the week that was a traveling abortionist. He traveled around the state of South Carolina without a medical license, with drugs and with medical tools, performing in-home abortions. So basically we got an illegal baby killer."
But no charges appear to have been filed related to unlawful abortions even though Pendergraft holds no medical license in South Carolina.
Pendergraft Charges 05062016 by Cheryl Sullenger

"Pendergraft should go to jail for these serious drug charges. We pray Florida will act swiftly to shut down his four remaining abortion facilities in Florida," said Operation Rescue President Troy Newman. "We have prayed for him to get out of the abortion business for years, and maybe a stiff jail sentence will be the thing that finally does it."
Meanwhile, pro-life activists are reporting that Pendergraft moved out of his Ocala, Florida, abortion facility this week after suspending abortions "until further notice" last fall after his South Carolina arrest.


Workers were spotted by pro-life activist Ralph Enger carrying out boxes and loading the dumpster with the contents of the former abortion facility. A phone call from the facility confirmed that its closure is permanent.
According to Enger, a receptionist who answered the phone told a caller requesting services in Ocala, "I'm sorry ma'am that place is closed permanently. Ocala will not be operating any more. It is permanently closed. We are no longer in Ocala."
Enger plans to lead a Thanksgiving prayer service outside the facility on July 2.
Pendergraft is serving the fifth suspension of his Florida medical license. Nevertheless, he continues to operate four abortion facilities in Orlando and the central Florida region.
Operation Rescue documented and reported his illegal late-term abortion operation in Maryland in 2011, which was shut down by the state.
For more on Pendergraft's long history of abortion abuses, visit his profile at AbortionDocs.org.