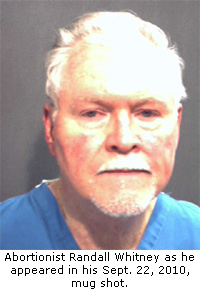 Orlando, FL — The Florida Department of Health has filed a disciplinary petition against abortionist Randall Whitney for unprofessional conduct related to an incident where he intentionally struck an abortion patient on March 27, 2010. Whitney faces possible license revocation, if the Board votes to discipline.
Whitney, who works for the notoriously troubled late-term abortionist James S. Pendergraft, had repeatedly failed in several attempts to insert an intravenous line in to patient A. R. and struck the woman in response to her complaints that he was hurting her. Whitney was arrested and jailed following the incident.
Whitney was re-arrested on a warrant for failing to appear for his trial in September, 2010. He eventually pled Nolo Contendere to the charge of aggravated battery on October 4, 2011, and was sentenced to one day in jail and ordered to pay fines, fees, and court costs.
The disciplinary petition filed by the FDH on August 17, 2012, discussed the trust placed in health care professionals who are licensed by the State and how Whitney betrayed that trust.
"Engaging in conduct wherein that trust and confidence is violated presents a danger to the public health, safety, or welfare, and does not correspond to that level of professional conduct expected of one licensed to practice medicine in this state."
"Whitney is a dangerous man whose behavior has spun out of control. We pray the Medical Board acts quickly to protect women from further abuse by him," said Troy Newman, President of Operation Rescue and Pro-Life Nation.
Whitney has a long history of misbehavior. His license was previously suspended for committing illegal late-term abortions. He closed his Daytona Beach clinic in 2006 rather than comply with new health and safety laws.
Read Whitney's Disciplinary Petition