Efforts continue to reopen Kline's investigations into non-reporting of child sex abuse by abortion clinics


Topeka, KS — Just four days after former Kansas prosecutor Phill Kline filed a motion asking for the recusal of two biased State Supreme Court Justices who were slated to decide the outcome of a politically motivated ethics complaint against him, five out of seven of the Justices recused themselves from hearing the case.
The unprecedented move opens the door for Kline to have a new panel of judges look at an ethics complaint filed by an attorney for a late-term abortionist who was trying to prevent Kline from obtaining abortion records that we now know contained evidence that abortion clinics were breaking the law. Until now, only those with a political vendetta against Kline and his controversial abortion clinic investigations have heard the case. Recusing were Justices Carol Beier, Lawton Nuss, who were included in Kline's motion, and Lee Johnson, Marla Luckert and Eric Rosen.
Abortion investigations obstructed
This case has a long and complex history. It began in 2003 when, as Attorney General, Kline had reason to believe that child sex abuse was not being reported by abortion clinics as required by law. Kline opened an investigation and obtained a subpoena from Judge Richard Anderson for abortion records. Anderson found there was probable cause for Kline to obtain the records.
Kline was the lone Republican to hold a statewide office at a time when Kansas politics was dominated by former Democratic Gov. Kathleen Sebelius, who now serves as Secretary of Health and Human Services in the Obama Administration. Sebelius is and was a radical supporter of unrestricted abortion. Through her appointments, she created a political climate that protected abortion clinics at all costs.
Kline had good reason to be concerned that the abuse of young girls was not being reported by abortion clinics, but his efforts to investigate those suspected crimes were met with fierce legal opposition and public demonization by abortion clinic attorneys, the Kansas media, and especially Supreme Court Justice Carol Beier.
Beier's "third wave feminism"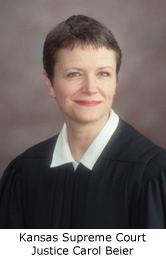 It was Beier's "scathing" comments in her legal opinions criticizing Kline's efforts to investigate abortion clinics that was particularly troubling and gave fuel to the pro-abortion news reporters to misrepresent the facts, confuse the public, and insulate the abortion clinics from aggressive prosecutions.
In Kline's brief asking for the recusal of Beier and another justice, Kline exposes Beier's adherence to a radical philosophy of "third wave feminism" that embraces unrestricted abortion on demand for any reason. Beier hated Kline for attempting to investigate abortion clinics, but time and again she was forced to rule in his favor. To mitigate the rulings, Beier continuously took Kline to task in her opinions with statements that were unsupported by law and contained falsehoods and deception. These comments were gleefully reported by the likes of the Kansas City Star, which received a "Maggie Award" from Planned Parenthood in 2006 for editorials supporting abortion.
Kline's counsel discovered Justice Beier's ties to the third wave movement when he came across 2008 writings by Justice Beier in a legal journal published in Maryland. In it Beier supported using the media as a "tool" to shape public perception in order to bring about legal reform supporting "third wave feminism."
Deceptions and Dishonesty
Kline claims that Beier's unprofessional opinion-writing was an improper use of her judicial opinion authority. He supports those claims with the fact that every judge that reviewed Kline's evidence found probable cause to believe that Kansas abortion clinics have committed multiple crimes.
Kline's attorney, Tom Condit, issued the following statement concerning the recusals:
This confirms Beier was deceptive and that her previous opinions were mere press releases for her third-wave feminism. This is more fully explained in our motion to recuse Justice Beier. The other justices joined in these deceptions – they also appointed the prosecutor and the panel which relied on those deceptions. These layers of deception by this Court and its appointees render this case irretrievably flawed.
The stated reason why five Justices of the Kansas Supreme Court are recusing from Phill Kline's disciplinary appeal hides more facts than it reveals.
This week Mr. Kline filed a recusal motion, demonstrating that the Court's opinion in a 2008 case, written by Justice Carol Beier, was flagrantly dishonest in its presentation of facts.
The recusing Justices, after reading Mr. Kline's motion, suddenly discovered that they had previously complained about Mr. Kline's behavior, and thus should not hear the appeal. This fact was known to them when the appeal was filed last fall —over six months ago.
The stated reasons are a smokescreen to divert public attention from the outrageous behavior detailed in the motion. Because public awareness of the facts presented in the motion would have a devastating effect on the Court's reputation, the Justices quickly patched together an alternate rationale.
Protracted Fight for Abortion Records


After three years of legal battles that included several trips to the State Supreme Court, Kline was finally given heavily redacted abortion records from George Tiller's now-closed late term abortion clinic in Wichita, Kansas, and Planned Parenthood in Overland Park. Kline was defeated in his re-election bid to the Attorney General's office two weeks later by a candidate that was hand-picked by Sebelius, and who promised to end the abortion clinic investigations.
In an unusual move, Kline was then appointed to serve as Johnson County District Attorney where he would have the jurisdiction to continue to investigate Planned Parenthood, which did business in Johnson County. He transferred his investigative materials to himself at his new office, a routine act that Kline's political enemies blew into a national scandal.
Kline charges Tiller
In his last days as Attorney General, Kline was able to determine that the abortion clinics were breaking the law, but had little time to develop his cases. Just before leaving office, he filed 30 criminal charges against George Tiller for committing illegal late-term abortions. Those charges were dismissed under suspicious circumstances by Wichita's District Attorney Nola Foulson, also an abortion supporter, less than 24 hours after she met with Kline and assured him she would not interfere with his case. Tiller never faced Kline's charges.
Sebelius administration obstructs Planned Parenthood case
Kline continued his investigations against Planned Parenthood, meeting with unimaginable opposition and dirty legal maneuvers. Kline's successor in the Attorney General's office, Paul Morrison, went so far as to attempt to recruit his illicit lover working in Kline's office to spy on his abortion investigations for the purpose of subverting them. When that sex and abortion corruption scandal was revealed, Morrison was forced to resign in disgrace, only to be replaced by another Sebelius appointee Steve Six, who picked up where Morrison left off in obstructing Kline's investigation and prosecution.
An ethics complaint against Morrison for his disgusting sexual dalliances on state time at the courthouse and his corrupt efforts to cover up crimes committed by Planned Parenthood quietly disappeared while an ethics complaint against Kline for his investigation is still aggressively pursued.
Kline jeopardized $300 million in PP funding
Kline later filed a massive case against Planned Parenthood containing 107 charges related to illegal late-term abortions and manufacturing evidence to cover up other crimes. For the abortion industry, there was much at stake in this case. A conviction would have endangered over $300 million in Federal funding received by the abortion giant nationwide each year.
"Shreddergate" Scandal


It was later learned that evidence of the more serious felony charges was destroyed by the Kansas Department of Health and the Attorney General's office under Sebelius' puppet Steve Six after charges had been filed and the case was in progress. To this day, no one has been held accountable for that evidence destruction.
Planned Parenthood still faces 58 criminal charges, which is the likely cause for the aggressive push to discipline Kline. They must ruin him in order to discredit the criminal case against Planned Parenthood and save their Federal funding.
Spurious patient privacy accusations
Kline was accused of mishandling patient records that were so redacted that no indentifying information could possibly be gleaned from them. In fact, all these years later, not one patient has been identified in spite of the microscopic scrutiny on Kline's investigations.
Kline was crucified for an appearance on "The O'Reilly Factor" news program where he appeared opposite of Amy Richards, founder of the Third Wave Foundation, that had some connection to Beier. Yet Kline revealed nothing that was not already a part of the public records. Richards, however, was bettered by Mr. O'Reilly, and perhaps that is why Kline's political opponents have worked so hard to make him pay for their embarrassment.
Child sex abuse continues without reporting
As for the concern for under reporting of child sex abuse, Kline's investigation confirmed that during a time when over 160 Kansas children 14 and younger had abortions in Kansas that Comprehensive Health of Planned Parenthood and Tiller, each only reported one case of child sexual abuse. However, Kline was never able to complete his investigation due to orders by the Kansas Supreme Court led by Sebelius appointee Justice Beier and the actions of former Attorneys General Paul Morrison and Steve Six. No one has since looked further into this sandal.
New evidence surfaces
New evidence has surfaced in recent weeks indicating that under reporting of abuse continues at Kansas abortion clinics. Documents leaked to Operation Rescue by a confidential informant show that one Kansas City abortion clinic, Central Family Planning, also known as Aid for Women, may never report suspected abuse as required by law.
"Literally hundreds of children in Kansas may be currently at risk of abuse, and no one is looking into it," said Troy Newman, President of Operation Rescue and Pro-Life Nation. "We have asked Attorney General Derek Schmidt to reopen Kline's under reporting investigation, but he has yet to respond to us. It appears that since Kline was so maliciously maligned for trying to do his duty, the current Attorney General's office fears getting involved lest the same thing happen to them. If that is true, I don't know how they sleep at night knowing that their inaction is condemning little girls to unspeakable abuse."
A case in point
That is exactly what happened in Wichita in a case that was so shocking it rocked the community. A man named Robert Estrada began routinely raping his step-daughters when they were 11 and 12 years old. The 12-year old was taken to a Wichita abortion clinic for an abortion and returned to her step-father without a suspected abuse report being filed. He continued to rape the girls for four more years, resulting in a total of four pregnancies. Estrada was eventually caught after a pro-life pregnancy center reported the abuse when the girls came in asking about adoption services. Kline assisted by forwarding the abortion records to District Attorney Foulston, who falsely told reporters Kline had nothing to do with the case.
Lack of will to prosecute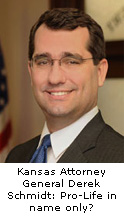 "It happened before and it is happening now. Authorities have chosen to protect the abortion clinics and their own political careers over protecting abused little girls who are being taken to the abortion clinics where the rapists can get help covering up their crimes. The corrupt abortion political atmosphere that covered up for abortion crimes under Sebelius is intimidating prosecutors from doing their duty today," said Newman.
Financial burden of Kline's defense
Kline continues to fight a recommendation by a disciplinary panel with ties to Sebelius that his law license be suspended indefinitely. Much of the legal costs have come directly from Kline's own pocket, even though he was charged in his capacity as an officer of the state. He was forced to fire a state appointed legal firm that incredulously included Mark Stafford, who formerly served as Chief Counsel for the Kansas State Board of Healing Arts during the time Kline was investigating abortion clinics. Stafford often "ran interference" for the abortion clinics and was involved in the politically motivated "clearing" of Tiller in the third-trimester abortion death of Christin Gilbert. He was forced to resign in disgrace from the KSBHA amid accusations of corruption and Board incompetence. Kline now must bear the cost of his defense personally, and that has already cost him tens of thousands of dollars.
To donate to Kline's legal defense fund, click here.
A new hope for Kline, failing hope for abuse victims
With the recusal of five State Supreme Court Justices, Kline finally has hope. New judges will be appointed to fill in and review the ethics panel's findings. While Kline awaits final exoneration, abortion clinics that he sought to hold accountable to the law continue to operate without oversight. Operation Rescue has obtained open records information indicating that the clinics remain uninspected and unaccountable. A new law that would have required minimum safety standards and licensing for abortions clinics languishes in court, tied up by the same abortion clinics that have been accused of crimes.
"This is an intolerable situation. We have evidence that Kline was right and that abuse is not being reported by abortion clinics. One would think that would be an urgent concern of the state. Now that the old Sebelius pro-abortion political machine has been disabled by the new Brownback administration, we thought some of these issues would go away, but they haven't," said Newman.
"Attorney General Derek Schmidt needs to know that people are watching him and will hold him accountable for his lack of enthusiasm for protecting little girls that are sexually abused by predatory abortion clinics that cover up for their abusers."
Take Action!
Please contact KS Atty. Gen. Derek Schmidt and ask him to investigate the under reporting of child sex abuse by abortion clinics.
KS Atty. Gen. Derek Schmidt
Voice: 1-888-428-8436
Fax: (785) 296-6296
E-Mail form: Click here