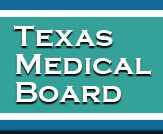 Austin, TX – Five Texas abortionists are scheduled to appear before the Texas Medical Board on Friday, October 28, and answer to allegations of wrongdoing based on complaints filed by Operation Rescue based on a three-month undercover investigation.
Abortionists set to appear are Robert Hanson, Alan Molson, William W. West, Jr., Franz Theard, and Douglas A. Karpen.
Operation Rescue President Troy Newman, who is the official complainant for all appearing Friday except Karpen, will attend the hearings where he will be allowed to give statements to the Board. Cheryl Sullenger, of Operation Rescue, is the complainant in Karpen's case and will submit a written statement for the Board's consideration.
"Our investigation focused on what the average woman would experience if she sought an abortion in Texas, and how the abortion clinics appeared and operated on an everyday basis," said Newman. "From what we found, women are subjected to a variety of abortion abuses as a matter of routine. Violating the law is standard operating procedure for abortion clinics in Texas."
Allegations include:
Violations of the informed consent laws.
Violations of the 24-hour waiting period.
Coaching minor girls to cross state lines to avoid Texas parental notification laws.
A willingness to ignore cases of child sex abuse.
Illegal disposal of private patient information in violation of HIPAA.
Improper handling and disposal of controlled substances.
Illegal disposal of aborted baby remains.
Dirty, poorly maintained facilities.
In all, ten abortionists are scheduled to appear before the Board as a result of complaints. Operation Rescue was notified late last week that the hearings of the remaining five abortionists will take place at a later, yet to be determined date. Those five abortionists are Pedro J. Kowalyszyn, Sherwood C. Lynn, Margaret Kini, Robert L. Prince, and H. Brook Randal.
Once all ten abortionists have appeared for hearings, a final decision by the full Board on disciplinary action is expected in February, 2012.
Operation Rescue's investigation was conducted from December, 2010, through February, 2011, in conjunction with the pro-life youth group The Survivors.
In addition to the ten Medical Board cases, Whole Women's Health abortion clinics in Austin and McAllen were cited by the Texas Commission of Environmental Quality for the improper disposal of aborted baby remains. Stericycle, a disposal company used by abortion clinics nationwide, was also cited for their improper disposal of human remains in Austin.
Background