[Note: Corrected copy. See below.]
By Cheryl Sullenger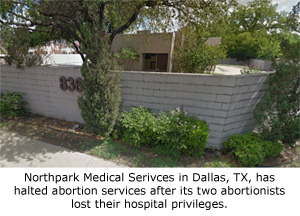 Dallas, TX – As the Fifth Circuit Court of Appeals considers the constitutionality of Texas abortion safety laws, Operation Rescue has confirmed that Northpark Medical Group, an abortion facility in Dallas, Texas, has halted all abortions after the hospital that provided its two abortionists with privileges closed.
This represents the first abortion clinic to terminate abortion services in 2015, leaving just 549 surgical abortion clinics in America after clinic numbers hit a high-water mark on 1991 with 2,176 surgical abortion clinics. Last year, 73 abortion clinics nationwide closed or halted abortion services for at least part of the year – 60 of them permanently according to a survey conducted by Operation Rescue.
In Texas, 16 surgical abortion clinics remain, down from 44 in 2013, before Texas passed HB2, the law requiring abortion facilities to meet minimum safety standards.
"The Texas abortion law is doing what it is supposed to do. It is protecting women from substandard facilities and practices. The benefit of requiring abortionists to maintain hospital privileges within 30 miles of their abortion facilities is that it weeds out those who cannot qualify or meet the medical standards that hospitals require," said Operation Rescue President Troy Newman. "If an abortion facility cannot meet minimum safety standards, it is just too dangerous to stay open."
The Houston-based University General Health System shut down its 111-bed Dallas hospital on Christmas Eve in preparation for selling the property. This has left Northpark Medical Group's abortionist, Lamar Robinson, and another abortionist, Jasbir Ahluwalia, without hospital privileges, which are required under Texas law.
Ironically, this same hospital temporarily revoked Robinson and Ahluwalia's hospital privileges on March 31, 2014, after pro-life activists began protesting the hospital. In letters sent by University General, which notified Robinson and Ahluwalia of the loss of privileges, reasons for terminating their privileges were cited, including "disruptions" and liabilities created by the abortionists' "voluntary disruptions of pregnancies."
Robinson and Ahluwalia filed suit against University General in April, 2014, and obtained a court order forcing the hospital to reinstate their privileges. In July, the abortionists and reached a settlement with hospital, which made the reinstatement permanent.
However, now that the hospital is closed, the Northpark Medical Group abortion clinic has been forced halt abortions.
The two abortionists are said to be making applications for privileges at other area hospitals, but so far have not received them. If Robinson is unsuccessful, Northpark Medical Services could be forced to shut down for good.
"Northpark Medical Services does not exactly have Mayo Clinic standards," said Newman. "They are documented abortion abusers."
Northpark Medical Services was cited and fined repeatedly between 2000-2012 by the Texas Department of State Health Services for violations that included:
• Hiring unqualified workers to provide direct patient care.
• Failing to maintain accurate patient records.
• Improperly altering patient records.
• Failure to maintain surgical rooms that met minimum standards.
The abortionists who lost hospital privileges have fared even worse with regulatory boards.
Educated primarily in Uganda, Ahluwalia has a checkered history. His Texas medical license was restricted for a year in 1996 after it was found he kept inadequate patient records. But that is only the tip of the iceberg when it comes to Ahluwalia's problems.
• Ahluwalia was sued for causing severe brain damage to infant during delivery and settled lawsuit for over $1.3 million in 1989.
• He lost hospital privileges at Harris Methodist Erath County Hospital (TX) after failing to adequately manage high-risk pregnancies.
• He was sued twice by two patients in 1991 for perforating their uteri during an abortions.
• He was sued by patient in 1995 for allegedly blocking a ureter with stitches. The resulting complications forced his patient to undergo surgery to remove one kidney.
Robinson was the subject of a medical board discipline in Louisiana in 1982 for over prescribing weight control drugs. His license was suspended for six months and he was placed on probation for five years.
"If HB2 is upheld, other abortion facilities in Texas that are currently operating under dangerous conditions will also be forced to close. That would be a victory for vulnerable pregnant women that these businesses prey upon," said Newman. "If the Fifth Circuit somehow finds the law unconstitutional, abortion facilities that are no better than back alley butcher shops will reopen."
Newman says that HB2 should not be about access. It should be about safety.
"Many people in America have to travel to access specialized health care not found in their communities. Some have travel to other states to get certain procedures that their local hospitals are not qualified to provide. That's not uncommon. There is certainly no justification for leaving substandard abortion clinics open just because they happen to be the last one in a particular community or area. For example, no one would want Kermit Gosnell's 'House of Horrors' to stay open just because it happened to be the last abortion clinic in Philadelphia," said Newman. "We are confident the Fifth Circuit will act to protect women by upholding HB2. Meanwhile, we rejoice that today there is one less abortion clinic is endangering women and killing babies."
[CORRECTION & CLARIFICATION: Abortionist Jasbir Ahluwalia was employed by Routh Street Women's Clinic, not Northpark Medical Group. However, Ahluwalia has in fact lost hospital privileges and has halted abortion services. Routh Street Women's Clinic continues to do abortions with another provider. We apologize for the error in reporting a breaking story.]