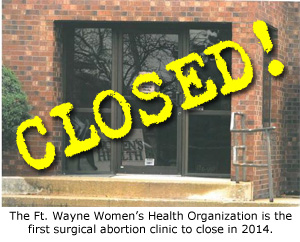 Ft. Wayne, Indiana – The Ft. Wayne Women's Health Center in Ft. Wayne, Indiana, is the first surgical abortion clinic to officially shut down in 2014 following a record-breaking year where 87 surgical abortion clinics permanently closed.
Abortionist Ulrich G. Klopfer has told the press that the closure a "hiatus" after he lost his hospital back-up physician and could not legally operate after January 1, however, there is reason to believe the closure could eventually become permanent.
A closure notice appears on his web site and the phone number to his clinic has been disconnected, actions that usually indicate there is no intention of reopening.


"While Klopfer could possibly reopen his Ft. Wayne abortion clinic if he is able to secure another back-up physician, given the highly publicized legal issues he is currently facing, it is doubtful that any reputable doctor would put his own reputation on the line for him," said Troy Newman, President of Operation Rescue.
Those legal problems began when Indiana Right to Life's Cathy Humbarger made a Freedom of Information Act Request for state termination of pregnancy reports last year. The group was shocked to discover 1,590 errors and omissions on the reports related to abortions in Lake and Allen Counties where Klopfer had worked, including a lack of reporting of abortions done on underage girls. In at least one case, Humbarger discovered that Klopfer failed to report an incident of statutory rape on a 13-year-old girl.
To date, over 1,200 consumer complaints have been filed with the Indiana Attorney General's office against Klopfer for violations of the state mandated reporting laws, non-reporting of child sex abuse, and other violations. Indiana Right to Life is demanding that his medical license be revoked.
It was soon after news of Klopfer's stunning disregard for Indiana reporting laws was made public by Indiana Right to Life that Klopfer's Ft. Wayne back-up physician quit his agreement with the troubled abortionist.
Klopfer continues to run the Women's Pavilion abortion clinic in South Bend, but if Humbarger's group is successful, that clinic could be in jeopardy of closing as well.
With a record amount of pro-life legislation flooding statehouses since the 2011 legislative season, pro-life activists have more opportunities than ever to document abortion abuses and violations of the law.
"We consulted with Cathy Humbarger on how to proceed with this situation and are so proud of her and her group for doggedly pursuing these massive abortion law violations against Klopfer that have ultimately resulted in the closing of his Ft. Wayne abortion clinic," said Newman. "Cathy is working a plan that we have used with great success, and is proving that abortion laws – even the most mundane – can be used to close abortion clinics and save lives at the local level now while we continue to work toward ending abortion altogether. We pray their efforts will put this scofflaw abortionist out of business for good."
Read Humbarger's consumer complaint, one of over 1,200 complaints pending against Klopfer.