Operation Rescue announces it plans legal action to inform the Court of deceptive and dangerous practices by Jackson Women's Health Organization's abortion clinic owner and staff.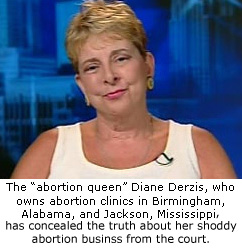 Jackson, MS – Last night Federal Court Judge Daniel P. Jordan III issued a temporary restraining order barring the State of Mississippi from enforcing a new law that would require abortionists to have local hospital privileges and be at least eligible for ObGyn board certification.
The ruling will keep the Jackson Women's Health Organization, the last abortion clinic in Mississippi, open, even though two out of three of its abortionists have not received hospital privileges, at least until a preliminary injunction hearing set for July 11, 2012. A planned Health Department compliance inspection for today has been placed on hold.
Troy Newman, President of Operation Rescue and Pro-Life Nation, who originally came up with the idea of the legislation and worked with Mississippi groups to introduce the legislation, has issued the following statement concerning the TRO:
"Judge Jordan failed to consider the health and safety motivation for the passage of this law. He ignored or was ignorant of the injuries and other violations, including records falsification mean to cover his negligence, by JWHO abortionist "Dr. John Doe," who is actually Bruce Elliot Norman. N doing so, the judge has disregarded the health and safety of women who unwittingly submit to abortion by Norman under the false belief that his abortions are safe. The judge has prevented the state from applying a safety net for those women and left them vulnerable and at risk.
"JWHO falsely calms that the hospital privilege requirement effectively bans abortion in Mississippi. Nothing could be further from the truth. It simply limits abortion clinic licenses to those who can comply with minimum safety standards, which JWHO cannot. Keeping JWHO open without its compliance with the new law only serves to endanger women.
"We have evidence that indicates JWHO intentionally concealed the fact that Norman sent three abortion patients to the hospital on January 21, 2012 at an abortion clinic in Birmingham, Alabama. That incident, which was reported by pro-life activists, led to the discovery of 76 pages of violations, including the intentional falsification of medical records and logs, which led to the state order closure of the clinic and the order that owner Diane Derzis be banned from any affiliation with a new abortion business there.
"Because Derzis owns JWCO and employs Norman there as its primary abortion provider, it is clear that women are being placed in the same dire risk that caused Alabama to close their Birmingham operation. We are preparing legal action to inform the judge of the truth that JWHO has tried to hide from him and to ensure that the new law goes into effect for the protection of vulnerable women."
Read the TRO
Read about violations and injuries committed by Norman and Derzis.