Link to the ruling below!
By Cheryl Sullenger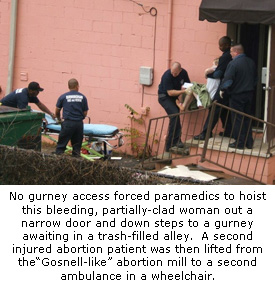 Montgomery, AL — Judge Myron Thompson issued a 172-page opinion this morning ruling that the Alabama law that requires abortionists to maintain local hospital privileges in unconstitutional.
Thompson said that the rule created an "undue burden" on women seeking abortions, because that law would force three out of five abortion facilities in that state to close because abortionists at those facilities are unqualified to receive hospital privileges.
"Following Thompson's flawed logic, he would rather keep open an abortion facility open – even if it was the likes of Kermit Gosnell and his filthy 'House of Horrors' – than close an abortion facility, no matter how dangerous it is for women. This puts the fabricated 'right' of an abortionist to operate whatever kind of shoddy, dangerous back-alley business he wants above the lives and health of women," said Troy Newman President of Operation Rescue. "This ruling must be appealed by the state in the interest of protecting women from substandard practices that endanger their lives every day."
Requiring abortionists to maintain hospital privileges ensures that patients receive continuity of care. Experts have testified in both Alabama and Mississippi that abortionists often call 911 in the event of an emergency, and leave it to emergency room staff, which seldom include an Ob/Gyn, to figure out the extent of a patient's injuries or complications. This causes a delay in emergency care.
The hospital privilege requirement also ensures that abortionists meet certain medical standards, which is another layer of accountability that weeds out incompetent practitioners. "
Without this law, abortionists with documented histories of incompetence are allowed to continue inflicting their quackery upon unsuspecting women," said Newman. "Thompson's ruling reflects absolutely no compassion or concern for the protection of women from substandard operators, as states have a duty to do."
Operation Rescue has documented abortion abuses in Alabama, including a facility in Birmingham that was hospitalizing women suffering complications inflicted upon them by untrained staff. Inspectors later discovered 76 pages of health and safety violations at that facility. Later, Operation Rescue joined with CEC for Life and Life Legal Defense Foundation in documenting the fact that the abortion facility continued to operate illegally. It was eventually shut down.
Other documented abuses at Alabama abortion facilities include:
• Planned Parenthood in Mobile was cited for numerous violations including failing to follow up on patients complaining of complications.
• Reproductive Health Services in Montgomery was cited for failing to follow infection-control protocols that had the potential of spreading infection or disease to multiple patients.
• The West Alabama Women's Center in Tuscaloosa was cited last year for multiple violations including failure to wash hands sanitize surfaces between patients.
• The Alabama Women's Center for Reproductive Alternatives in Huntsville, which recently closed because its facility could not meet standards, employs abortionist Raymond Lopez who recently spent every weekend for six months in jail due to a court order in a domestic case. That facility's plans to relocate next to a middle school have been put on hold.
• At Planned Parenthood in Birmingham, which recently closed under suspicious circumstances, employs abortionist Aqua Don E. Umoren, who is facing discipline for incompetence and negligence related to the incompetent abortion, which was done on a woman suffering an ectopic pregnancy that Umoren failed to diagnose with disastrous consequences to the patient. That case remains open.
Thompson based his decision in part on a Fifth Circuit Court of Appeals decision released last week that upheld a preliminary injunction that blocked similar hospital privilege requirements from being enforced in Mississippi. That decision was generally viewed as nonsensical by Operation Rescue and other pro-life groups.
A hospital privilege requirement passed last year in Texas was upheld by the Fifth Circuit and appeared not to have played a role in Judge Thompson's decision.
Read the decision