[Jefferson City, MO — Missouri recently passed pro-life legislation that would have done two things: require abortionists to have hospital privileges within 30 miles of their killing site, and allow civil suits against those who would take a minor girl for an abortion across state lines to avoid the state's parental consent laws.
These two common-sense provisions were blocked by a federal judge last week. (See story below) In light of the recent spate of documented ambulance runs from George Tiller's Women's Health Care Services in Wichita, KS, including a tragic abortion death, one wonders why the federal judiciary would continue to endanger women's lives by denying them access to timely emergency services. Judge Laughrey cited that the new safety regulations requiring hospital privileges within 30 miles would cause "immediate and irreparable harm" to a Springfield, MO abortion mill. In plain language, that means the abortion mill would have to close. This chop shop commits 1500 abortion per year, but the abortionist only has hospital privileges in St. Louis — 215 miles away. That is a 3-1/2 hour drive! Tiller can't seem to help killing patients when the hospital is only 4 minutes away.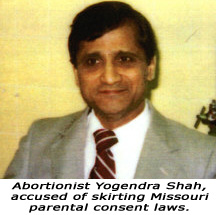 The second part of the law would hurt abortionist Yogendra Shah's business at the infamous Hope Clinic in Granite City, IL, where minors are routinely sent to avoid the stricter parental consent laws in neighboring Missouri. This is the same abortionist that gave an abortion to a non-pregnant woman, neglected to tell her she was never pregnant, then sued her for telling her story publicly. That woman, Melanie Mills, is now a staunch pro-life crusader who testified in favor of this legislation. Mills was recently vindicated in her suit and is now free to tell her story.
There is a third disturbing item about the article below. It states, "Some clergy in the St. Louis area have said they have halted or limited counseling with pregnant teens for fear of running afoul of the new law." CLERGY?? Those who would "counsel" a church-going woman — or any woman for that matter — to kill her innocent child is not fit for the position of "clergy" unless it is as a Priest of Baal! It is no wonder that nearly 70% of all women aborting their babies in America are church-going women. The Church must repent for this greivous sin against God. -OR Staff]
Federal judge blocks new abortion law
By Matt Franck
POST-DISPATCH JEFFERSON CITY BUREAU
09/16/2005
JEFFERSON CITY– A federal judge blocked a new Missouri abortion law Friday, placing a freeze on two key abortion restrictions only a day after they were signed into law by the governor.
The ruling by U.S. District Judge Nanette Laughrey in Jefferson City temporarily negates efforts to boost Missouri's parental consent law and add regulations to abortion physicians.
Laughrey ruled that the new law threatens "immediate and irreparable harm" to the Springfield Healthcare Center, a clinic that had ceased performing abortions to comply with the new law. The clinic is the only abortion provider in the Springfield, Mo., area.
"I'm ecstatic for the women of southwest Missouri," said the clinic's director, Michelle Collins, of the ruling.
The new law requires all abortion providers to have privileges at a nearby hospital – something Collins said hasn't been granted in the past. As a result, she said, patients had been informed that the clinic would be unable to provide abortions.
Laughrey's ruling also places a freeze on a provision that allows lawsuits against anyone who would "intentionally cause, aid or assist" a minor to obtain an abortion without parental consent. The civil penalty extends to cases in which the abortion is performed in Illinois, where no consent is required.
Laughrey ruled that the new law "threatens an immediate chilling effect on all abortion counseling within Missouri and nearby states until the scope of the provision can be determined."
Some clergy in the St. Louis area have said they have halted or limited counseling with pregnant teens for fear of running afoul of the new law.
Meanwhile, the Hope Clinic for Women in Granite City has begun to require parental consent for all abortions on minors from Missouri, even though Illinois law does not require it.
Laughrey's ruling is not a decision on the merits of the new law. Rather, her temporary restraining order stops the law from taking effect while its legality is debated in court.
The legislation's author, Sen. John Loudon, R-Chesterfield, expressed frustration that a judge had so quickly ruled against the abortion restrictions. "That's classic judicial activism," he said. "We've come to expect it."
He said he's confident the law will withstand further court review, a sentiment echoed by Gov. Matt Blunt's office.
"We stand by this good pro-life law that will reduce the number of abortions in our state and look forward to debating its merits before the court," said Jessica Robinson, a spokeswoman for the governor.