Options are narrowing in the 17-year legal battle to protect the historic monument from atheist attack.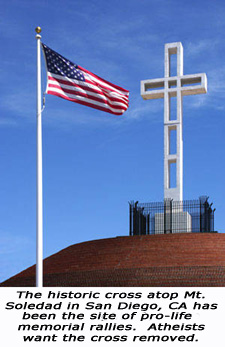 San Diego, CA — A three-member panel of the 9th Circuit Court of Appeals ruled on June 21, 2006, that the majestic 30-foot cross atop Mt. Soledad in San Diego must be removed by August 1, or the city will face $5,000 per day fines.
Atheists began a crusade to remove the cross when they filed a lawsuit against the city 17 years ago. The cross, located in a city-owned park in the Pacific Beach area with a breathtaking 360° view of the California coastline, was built in 1953 as a Korean War Veteran Memorial. Christian groups found it a popular site for Easter sunrise services and other events.
Operation Rescue has held pro-life memorial rallies there attended by U.S. Congressmen and other dignitaries.
The attorney fighting to remove the cross is James McElroy, a Planned Parenthood attorney who spent over a decade suing pro-lifers, and has stated in private conversations with Operation Rescue staff members that he believes it is his mission in life to get pro-life Christians off the street.
While supporters of the cross monument were disappointed in the three-member panel ruling, they were mystified that the 9th Circuit scheduled oral arguments for an appeal before the full panel of judges for the week of October 12th, two months after the deadline set for the removal of the cross.
In November, 2005, San Diegans approved Proposition A with an overwhelming 76% of the vote, which would have allowed the cross to remain by transferring the title to the land. A District Court judge ruled that Prop A was unconstitutional, but in an ironic twist, the 4th District Court of Appeals ruled moments after the 9th Circuit that the city could appeal the Prop A ruling.
Mayor Jerry Sanders has vowed to appeal to the U.S. Supreme Court, but the likelihood of the nation's highest court hearing the case seemed slim, since it refused to hear an appeal earlier in the litigation process.
"Our nation's landmarks that give assent to our Christian Heritage are rapidly facing extinction," said Operation Rescue President Troy Newman, who grew up not far from the historic cross. "The fact that the cross has survived 17 years of aggressive litigation is a testament to the popularity of the monument and the determination of the people of San Diego not to allow a couple of atheist bullies to deprive them of a beloved memorial that has graced the skies over San Diego for over 50 years."
It is believed that an executive order from President George W. Bush could save the historic monument. If you would like to express your opinion to the President concerning the Mt. Soledad Cross war memorial, here is the contact information:
Mailing Address
The White House
1600 Pennsylvania Avenue NW
Washington, DC 20500
Phone Numbers
Comments: 202-456-1111
Switchboard: 202-456-1414
FAX: 202-456-2461
E-Mail
comments@whitehouse.gov