Implications of original ruling make Kansas a haven for child predators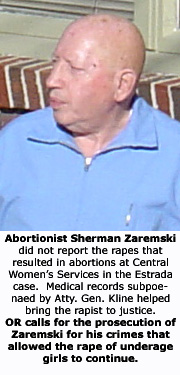 Denver, CO — A Federal Appeals Court has dismissed a case brought by abortionists and other abortion supporters against Kansas for attempting to enforce their mandatory child sex abuse reporting law. Legislators had changed one word in the statute, rendering the case moot.
Kansas law requires that health care professionals, teachers, and other professionals who work with children must report all suspicion of sexual abuse. Aid for Women, an Kansas City abortion mill run by abortionist Sherman Zaremski filed suit against former Attorney General Phill Kline after he issued an opinion indicating that abortion clinics were required to follow the law.
After hearing testimony that included that of a homosexual psychologist who claimed that sex with 10-year old girls was healthy, Judge Thomas Marten ruled at trial that abortion clinics and other health professionals need not report all suspected cases to the authorities and left reporting of such abuse discretionary. Kline appealed, but his successor, abortion supporter Paul Morrison, joined in the motion to dismiss the case at the appellate level due to the one-word change in the law.
"The implications of the original ruling are devestating. Even though the abortionist's case was dismissed, this impression that reporting is discretionary remains," said Operation Rescue President Troy Newman. "This means that abortion mills will continue to cover up incidents of suspected underage child sex in order to protect child predators, as they have for years in Kansas."
A case in point was that of Robert Estrada, who was convicted of raping his two young step-daughters and impregnating them a total of four times. The first pregnancy resulted in an abortion on one of the girls at age 12 at a Wichita abortion clinic where Zaremski worked. Because Zaremski and his staff refused to report the sexual abuse, it was allowed to continue on for years.
"The case was misrepresented in the media as a 'kiss and tell' case that would endanger the privacy of teens, and was never completely understood by the general public," said Newman. "Abortionist are hiding child sexual predators on a daily basis and young girls who should be protected are exploited and abused. They have effectively made Kansas a safe haven for child rapists and declared 'open season' on little girls."
Operation Rescue filed a complaint in February with the Kansas State Board of Healing Arts against Zaremski for not reporting the child rape in the Estrada case. An investigation is pending.