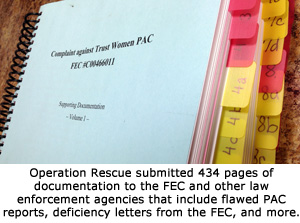 Wichita, Kansas — One day after Operation Rescue filed a complaint with the Federal Election Commission over $37,000 in missing Trust Women PAC funds and supplied evidence it is improperly funding a for-profit abortion business in Wichita, Kansas, the FEC issued two more deficiency letters to the PAC, both corroborating some allegations made in Operation Rescue's complaint.
Trust Women PAC is operated by Julie Burkhart, a former associate the infamous late-term abortionist George Tiller. Burkhart recently purchased Tiller's old abortion building and opened a new abortion clinic, South Wind Women's Center, which is partially operated through the improper use of PAC funds according to documents obtained by Operation Rescue.
One FEC letter dated July 31, noted that contributions to federal candidates and committees and contributions to non-federal candidates and committees on the PAC's most recent report were improperly categorized on the wrong form, a violation that was alleged in Operation Rescue's complaint.
Operation Rescue found that some of the contributions were made to Kansas candidates for state offices and for GOTV calls in Kansas, which is not allowed since the PAC is not registered in Kansas. Also, some campaign expenditures were made to non-existent companies with the same Wichita address as Burkhart's PAC. Those allegations have yet to be addressed by the FEC.
In a disturbing development that took place on July 30, just hours after Operation Rescue made its complaint against Burkhart's PAC public, an eyewitness reported seeing a South Wind Women's Center employee leaving the abortion clinic in her private sedan with boxes stacked in the vehicle up to the ceiling.
"The report of a suspicious removal of documents from Burkhart's abortion business raises grave concerns in our minds," said Troy Newman, President of Operation Rescue. "There has yet to be any accounting for nearly $100,000 in missing and non-itemized funds. Is Burkhart's behavior criminal or just incompetence? Either way, it only adds to our concerns that South Wind Women's Center is being operated in a manner that endangers the health and safety of women."
The two FEC deficiency letters noted that the Trust Women PAC's 2012 Year-End Report was improperly filed because it was "not signed by the treasurer or designated agent listed on [Trust Women PAC's] Statement of Organization." This was another allegation made in Operation Rescue's complaint.
The former secretary for Trust Women PAC left the committee sometime in 2011. All reports since then have been improperly filed by Burkhart employee Amber Lockner. The FEC had repeatedly noted the lack of authorized signatures in previous letters to Trust Women PAC, but it wasn't until August 2, days after Operation Rescue made its complaint public and the FEC issued its latest RFAI letters, that Lockner — under pressure — properly filed a new Statement of Organization.
The FEC gave a deadline of September 4, 2013, to make the corrections. "Requests for extensions of time in which to respond will not be considered," the letters stated.
Concerned that the missing PAC funds, the improperly categorized contributions and disbursements, and the improper payment of operating expenses for the for-profit abortion business may represent criminal activity, Operation Rescue also filed identical complaints with the Federal Bureau of Investigation and the Kansas Bureau of Investigation.

View Operation Rescue's report, with links to the complaint and supporting exhibits.