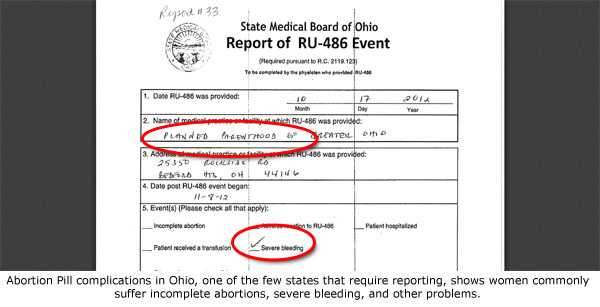 Washington, DC — Operation Rescue has issued a statement expressing deep concern over the announcement that the FDA has capitulated to pro-abortion demands and altered the approved use of Mifeprex, (also known as Mifepristone or RU486), to come in line with off-label protocols used by Planned Parenthood and other abortion businesses.
The following statement is attributable to Troy Newman, President, Operation Rescue:
The abortion pill is a huge cash cow for the Abortion Cartel, but the process of abortion using the abortion pill cocktail of two drugs, Mifeprex and Cytotec, is long, painful, bloody, and unpredictable for women and deadly for pre-born children.
Extending the upper recommended gestational limit from 49 to 70 days only ensures that the risk of incomplete abortion will be multiplied, as will the number of women visiting emergency rooms around the country suffering from partial or failed abortions.
Relaxing the usage protocols allows abortion businesses to step up their aggressive marketing of the drug to vulnerable pregnant women and plays into Planned Parenthood's goal of selling the abortion drug at every one of their outlets, whether their facilities are equipped to cope with known abortion pill complications or not. This creates additional risks to women for the sake of Planned Parenthood's increased profits.
Planned Parenthood of Kansas and Mid-Missouri expanded sales of the abortion pill regimen to their Wichita office earlier this month, which is ill-equipped to treat incomplete abortions or other complications. Licensed physicians who will dispense the abortion drugs hold no local hospital privileges, leaving women to fend for themselves when expected complications arise.
The FDA should be more about protecting the public from exploitative and predatory uses of drugs rather than pandering to Planned Parenthood and the rest of the Abortion Cartel.
Operation Rescue, which is headquartered in Wichita, Kansas, will hold a press conference to address further concerns about the use of abortion drugs, and outside of the Wichita Planned Parenthood office.
Press Conference Details:
When: Thursday, March 31, 2016, at 12:00 – 1:00 p.m.
Where: Wichita Health Center Planned Parenthood
2226 E Central, Wichita, Kansas
Why: To express concerns about the FDA's decision to pander to the Abortion Cartel, draw the public's attention to dangerous abortion practices done by aging abortionists, and to pray for an end to abortion in Wichita and the rest of our nation.