Bellevue, NE – An eyewitness has reported that he observed an ambulance outside LeRoy Carhart's Bellevue, Nebraska, abortion clinic on November 30, 2013, and that the woman transported may have suffered complications from a second-trimester abortion. This emergency transport follows one just four days earlier at Carhart's late-term abortion clinic in Germantown, Maryland, where a patient was rushed to the hospital and required emergency surgery.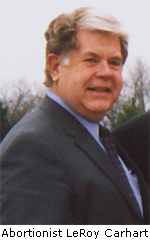 Carhart, age 72, has been involved in an increasing number of abortion emergencies in the past several years, including the late-term abortion death of Christin Gilbert at a clinic in Wichita, Kansas, in January, 2005, and the Jennifer Morbelli death earlier this year.
"Women are paying the price for Carhart's ineptitude as State agencies refuse to discipline this human rights abuser," said Operation Rescue President Troy Newman. "We believe that Carhart is desperately trying to conceal his increasing number of botched abortions from the public. That's why he is using private ambulance companies instead of calling 911. Carhart burns the candle at both ends doing abortions every week in three states. At his age, that is a recipe for disaster."
Local Nebraska activist Steve Williams said in a written statement that on Saturday, November 30, he was praying outside Carhart's Bellevue abortion business when a private ambulance from a company called "Medics at Home" arrived at about 11:35 a.m. with sirens screaming. Paramedics picked up a Hispanic-looking woman, then left the scene with no lights or sirens.
The ambulance was followed by a man in a truck. The couple in that truck had been seen at the clinic the previous day, indicating that the abortion was likely a multi-day, second trimester procedure.
This incident represents the 4th known emergency hospitalization of a Carhart abortion patient in the past 10 months and the 5th since March, 2012. Three of the previous incidents took place in Germantown, Maryland, where he relocated his post-20-week late-term abortion business after Nebraska passed the nation's first 20-week abortion ban based on the baby's ability to feel pain in 2010.
The three Maryland incidents include the Feb. 7 death of Jennifer Morbelli from complications to a 32-week abortion, a July 9th incident where Carhart is clearly shown on video escorting an injured patient suffering heavy bleeding to the ambulance, and the November 26 incident that landed a late-term abortion patient in the hospital where she underwent emergency surgery.
Carhart is also known for instructing his employees to request "no lights, no sirens." A 911 recording obtained by Operation Rescue revealed that on March 31, 2012, one of Carhart's Bellevue employees asked that an ambulance be sent without lights or sirens just as did a Kansas abortion clinic employee in a 911 call during the Gilbert incident in 2005.
The emergency in March 2012, involved what witnesses said was a "visibly pregnant woman" who could be heard moaning and screaming in the background of the emergency recording. That recording could well have prompted Carhart to stop dialing 911 in Bellevue in favor of a private ambulance company that is not subject to Freedom of Information Act requests.
Complaints against Carhart filed in Nebraska and Maryland have been mostly ignored by medical boards in both states or resulted in only minor action, leaving women in continual risk from Carhart's shoddy practices. In 1993, Nebraska issued a non-disciplinary compliance agreement wherein Carhart agreed to stop falsifying medical records, engaging in personal phone calls during surgical abortions, and interrupting surgical abortions due to fatigue, among other things. In 2011, the Maryland Board of Physicians issued a letter of admonishment to Carhart for lying on his medical license application in that state. That action was based on a complaint filed by Operation Rescue.
However, the Nebraska Attorney General is attempting to revoke the nursing license of Carhart's only Bellevue nurse, Lindsey Creekmore. A hearing in that case is set for March 19-21, 2014.
Operation Rescue has released a video that shows evidence of 9 abortion-related medical emergencies involving Carhart since 2004.
"There were likely many more incidents than just nine, but since there is no reliable reporting data, we rely on primarily on pro-life activists and informants to document botched abortion cases. We know the ones seen by our people on the street are just the tip of a very large and ugly iceberg," said Newman.