By Cheryl Sullenger
Granite City, IL – Since March of this year, ambulances have transported at least three women who suffered botched abortions at the Hope Clinic for Women in Granite City, Illinois. Now, a pro-life activist has published evidence that a Catholic hospital group is sending women to the Hope Clinic for abortions, despite the documented safety dangers.
On March 20, 2021, video taken outside the Hope Clinic showed a completely covered woman leaving the abortion facility on a gurney. She was loaded into a Granite City ambulance and transported, presumably to Barnes Jewish Hospital in St. Louis, Missouri, where most of the injured women are transferred.
Gateway Regional Medical Center, a hospital located directly across the street from the abortion facility, is rarely used.
Efforts by Operation Rescue to obtain the public 911 records related to this and two other 2021 medical emergencies, have been met with delay "due to COVID," according to City officials handling the requests.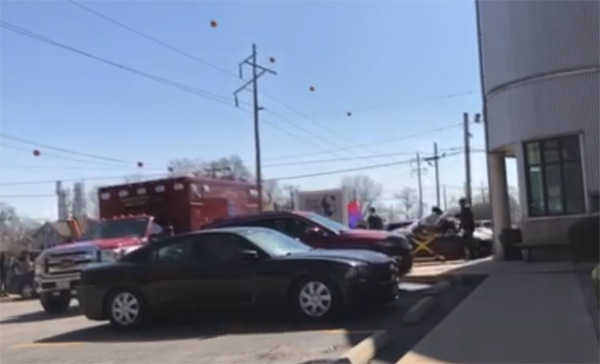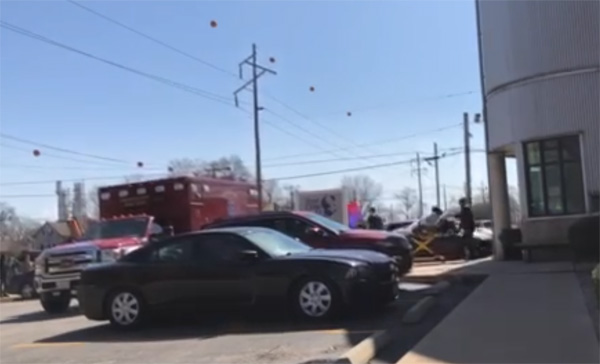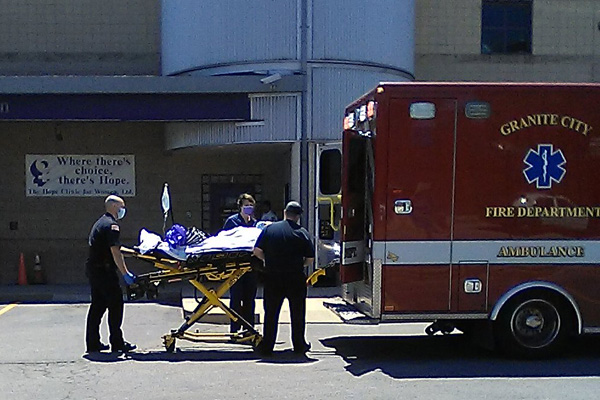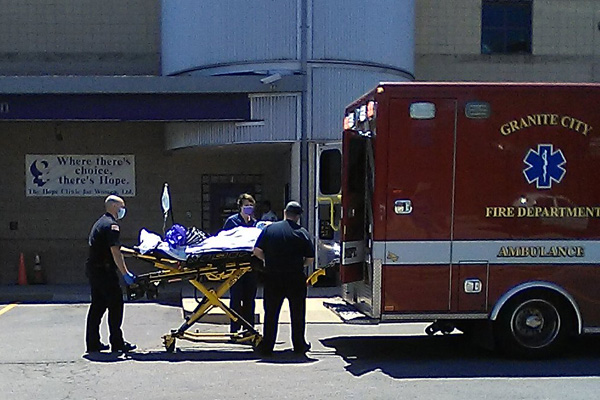 The second abortion emergency at the Hope Clinic this year occurred on June 16, 2021.  Photos provided by a local prolife activists showed a woman who was transported by ambulance after she suffered serious abortion complications during a two-day abortion procedure.  According to Hope Clinic's website, such abortions are conducted from 16 to 24 weeks of pregnancy. These multi-day procedures involve dismembering the unborn baby.
Her ambulance also bypassed the nearby hospital and transported her instead across state lines to Barnes Jewish Hospital.
The third documented emergency at the Hope Clinic took place on July 22. The heartbreaking video showed a black woman on a gurney who waved to pro-life activists who offered to pray for her as she was loaded into another Granite City ambulance.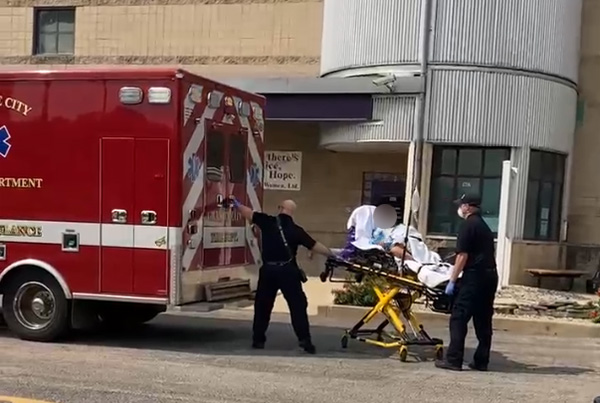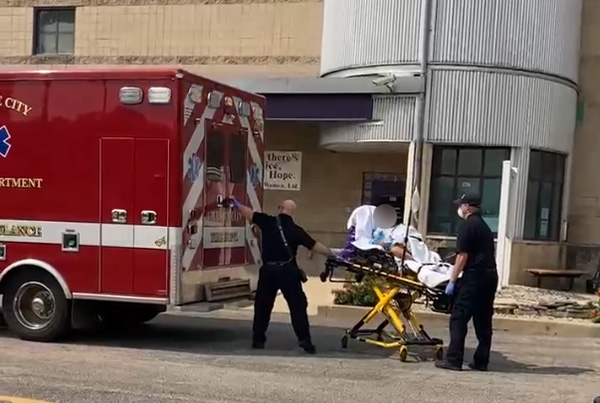 Ignoring warnings
Moments later, two white women, who appeared to be abortion-bound, ignored the pleas of pro-life activists, and hurried past the ambulance into the Hope Clinic. These women seemed oblivious to the fact that a woman was just injured during the same type of procedure they were rushing to get.
"Probably every woman that has ever been hospitalized after a botched abortion walked into an abortion clinic thinking nothing bad would ever happen to them," said Troy Newman, President of Operation Rescue. "And for some women, it was the last thing they did in their lives."
Abortion the "only" option?
Meanwhile, John Ryan, who regularly offers help to women outside the Hope Clinic, has released a report that shows evidence that seventeen pregnant women who visited one of eight Catholic SSM Hospitals in St. Louis, were pressured by the hospital staff to abort their babies at the Hope Clinic for Women.
Many of the women indicated that they were told "abortion is the only option" by doctors at the SSM Hospital facilities.  Some of the women who were told they were carrying babies that had been prenatally diagnosed with Down syndrome.
Ryan soon discovered that the practice of referring pregnant women to the Hope Clinic is routine. Due to his complaints, Ryan said that an apparent in-house "investigation" was conducted and concluded — without evidence — that each of the 17 women were lying about being referred for abortions or pressured to have them.
However, one woman came forward with irrefutable evidence that it was the hospital that was hiding the truth.
A.M.
One woman, Aberayana Moore, provided her medical records to expose the level of coercion that she was subjected to by doctors at SSM Health St. Mary's in St. Louis. She gave permission for her name and records to be used to expose how she was treated and her decision to carry her baby was ignored.
Moore and her boyfriend were first referred to Hope Clinic for Women by Barnes Jewish Hospital in May 2019, because her unborn daughter at approximately 20 weeks gestation received a tragic diagnosis of anencephaly with additional complications.  Moore had been told that abortion was her only option, and an appointment was made for her at the Illinois abortion facility.
She was never offered the opportunity to birth her baby and allow her to pass naturally with love and dignity.
Upon arrival at the Hope Clinic for their appointment, the couple encountered pro-life supporter John Ryan.  After talking to him, they decided that they would not go through with the abortion.
Ryan referred them to the SSM Health Network, believing they would be well treated and their decision not to abort would be respected at that Catholic facility.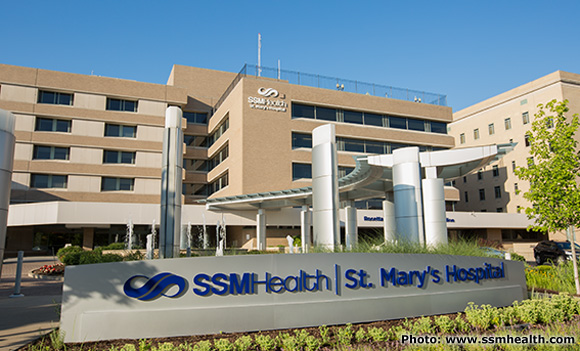 Unfortunately, Moore was again told that abortion was her best option, and another appointment was made for her at the Hope Clinic in complete disregard to her decision not to abort her daughter.  She was shocked by this.  Her complaints about how staff disrespected her decision not to abort her daughter were treated with a demeaning indifference..
So upset was she that Moore took and passed a polygraph test to verify that she experienced harassment at SSM St. Mary's Hospital because she did not want an abortion.
"It seems that the Catholic hospital group, SSM Health, is pushing women to abort babies instead of taking care of their complicated pregnancies. I wonder if they have made an agreement with the Hope Clinic to conduct abortions on women whose conditions might require extra care. That would be truly despicable," said Troy Newman, President of Operation Rescue. "Given the rash of botched abortions at the Hope Clinic for Women, it is irresponsible – not to mention immoral – for a Catholic institution to refer women there for abortions."
Read John Ryan's report and exhibits, including Moore's SSM Health St. Mary's records, affidavit and polygraph results.
For those that feel led to let SSM Hospitals know they need to stop referring and/or pressuring women to abort their babies, e-mails may be sent to contact.smhc@ssmhealth.com.