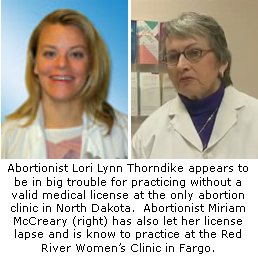 Fargo, ND – An "emergency situation" was uncovered Friday at the Red River Women's Clinic (RRWC) in Fargo, North Dakota, along with indications that two abortionist who travel to the only abortion clinic in that state may be illegally operating on expired, inactive medical licenses.
Operation Rescue received a tip that abortionists Lori Lynn Thorndike of Colorado and Miriam McCreary of Minnesota allowed their North Dakota Medical licenses to lapse on June 30, 2010. Operation Rescue immediately began to investigate.
An OR staffer posing as a potential abortion customer placed a phone call to RRWC on Friday, November 5, 2010. The caller specifically asked to be seen by "Dr. Thorndike."
"A friend of mine told me though about Dr. Thorndike. Said she was real helpful, so I was wondering if I could get her," said the caller.
The RRWC receptionist responded, "Okay, sure. Let me just put you on hold here. I'm gonna see what days we have available, and I'll be right back."
On Friday, the North Dakota Board of Medical Examiners (NDBME) web site showed that Thorndike and McCreary's medical licenses were on "Inactive – Expired" status. By Monday, record of Thorndike's license had been removed.
According to North Dakota law, is a Class B Felony to commit an abortion without a medical license. (See North Dakota Abortion Control Act, 14-02.1-04(1)(6).
According to a local newspaper report, the NBME is scheduled to take up the matter of Thorndike's practicing without a valid medical license when it meets on November 19, 2010. Duane Houdek, executive secretary of the NDBME, downplayed the lack of proper medical licensing. While he admits that Thorndike may have practiced "a couple of times" on a lapsed license, he believes it is an administrative matter that will be easily corrected.
In the meantime, police have investigated and are preparing to forward their report to the State Attorney for possible criminal charges.
However, the matter of McCreary's expired license has not been in the news and there seems to be no attempt to follow up on the possibility that she may have performed illegal abortions over the last four months.
Operation Rescue has since filed a complaint against Thorndike and included a request to investigate the "emergency situation" that took place at RRWC on Friday afternoon. A copy of the phone call documenting the emergency was submitted as evidence.
According to the receptionist, the undercover caller was told that there was an "emergency situation" that involved a woman who was sick and vomiting. The receptionist added that it was a "staff member" but that seemed suspicious in the context of the call. Operation Rescue believes the sick woman was more likely a patient suffering an abortion complication.
In a follow up call to the clinic about two hours later, another clinic worker answered the phone and told Operation Rescue's undercover investigator, who was still posing as an abortion patient, that the receptionist she had been speaking to earlier was not at the clinic. Calls to the county emergency communications department and a local ambulance company showed that an ambulance was not involved.
"We have reason to believe that the sick woman was transported to emergency care via personal vehicle so as not to call attention to the medical emergency," said Operation Rescue spokesperson Cheryl Sullenger.
"There is a real possibility that unlicensed abortionists may have botched an abortion and that the woman was placed in further jeopardy by clinic staff not calling an ambulance. If true, that means that the Red River Women's Clinic poses an immediate danger to the public and should be closed on an emergency basis pending further investigation."
Listen to excerpts of the undercover call
Please call NDBME's Duane Houdek at 701/328-6500 and ask that the Red River Women's Clinic be closed immediately pending further investigation of illegal abortions and abortion injuries.