By Cheryl Sullenger
Columbus, OH – Newly released documents from the Ohio Medical Board describe the shocking details that led to the suspension of Ohio abortionist David Burkons, 70, and conditions he must now meet in order to keep his medical license. Burkons is being disciplined for a variety of drug-related violations.
The July 12, 2017, order suspended Burkon's license for 180 days (six months), to be followed by a conditional probation of at least three years. During that time, Burkons must obey all laws, submit to periodic appearances before the Board, submit to the oversight of a Board-approved monitoring physician, and observe various other conditions.
Burkons was found to have been prescribing dangerous narcotics to fourteen patients, including several friends, without noting the prescriptions in their medical charts. This under-the-table prescribing kept any mention of narcotic use out of the patients' records. Drugs that were being secretly prescribed included Xanax, Adderall, Valium, Ativan, and Percocet.
He also left blank, signed prescriptions for his employees to fill out for patients. He claimed that he did not understand that this practice was illegal.
Also, during Burkons' testimony before the Ohio Medical Board, he blamed his clinic administrator for failing to renew the clinic's Terminal Distributor of Dangerous Drugs license with the Pharmacy Board. This left authorities blind to the distribution of narcotics by Burkons's Northeast Ohio Women's Center abortion facility in Cuyahoga Falls.
"Burkons was essentially an illegal drug supplier. His blame-shifting and claiming of ignorance rings hollow, especially in light of his actions that helped his evade discovery," said Troy Newman, President of Operation Rescue. "It is clear that he has not taken full responsibility for his dangerous behavior. There is every reason to believe when Burkons' license is restored, he will be back up to his old ways once the coast is clear. That makes him a danger to the public."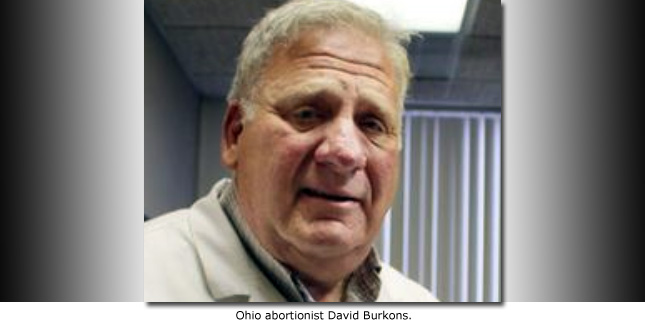 Within 30 days of the suspension order, Burkons was required to provide a copy of his suspension order to all his employers, all entities with which he is under contract, and all hospitals where he has privileges.
That list includes a list of troubled Ohio abortion facilities.
Burkons owns and operates the Northeast Ohio Women's Center, a facility he took over in 2014, when the previous abortion business there closed due to the revocation of its Ambulatory Surgical Facility (ASF) license. After failed inspections and other difficulties, Burkons was able to relicense that facility in 2015. He says he has hired another abortionist to keep this abortion facility open during his suspension.
Burkons also works at the Capital Care Network abortion facility in Toledo, Ohio, which is currently fighting in court to maintain its own facility license after the Ohio Department of Health rejected its hospital transfer arrangement with a hospital in Ann Arbor, Michigan, where the clinic owner said she would helicopter patients that suffered abortion complications requiring emergency hospitalization.
However, on April 1, 2017, pro-life activists witnessed an African-American patient being taken out the back entrance of the building. She was loaded into an employee's private vehicle and taken to a Toledo hospital where the facility had no transfer agreement. A local activist has filed a complaint over the incident, and the licensing case has been appealed to the Ohio Supreme Court.
Burkons is also listed as medical director for Preterm abortion facility in Cleveland, where Lakisha Wilson suffered a fatal abortion in March 2014. That facility has experienced more than its share of medical emergencies, including incidents where medical care was delayed due to a frequently malfunctioning elevator that prevented gurney access to the abortion procedure rooms. Preterm's most recent abortion-related medical emergency took place on July 26, 2017, just days after Burkon's license suspension.
"Every abortion business affiliated with Burkons is a documented public safety disaster," said Newman. "Medical Boards and Health Departments in every state must come to grips with the fact that abortionist are not like legitimate health care providers and cannot be treated as such. They tend to be a devious lot that try to get away with everything they can, knowing that a slap on the wrist is all they will ever suffer. Traditional discipline rarely works with them. While we are glad Burkons cannot legally do abortion for six months, he really should never be allowed to practice medicine ever again."
Read Burkons July 2017 Suspension Order and Supporting Documents.