By Cheryl Sullenger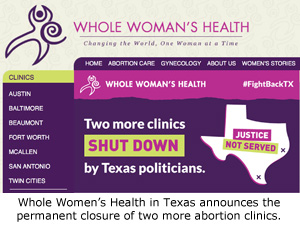 McAllen, TX – The ever-decreasing number of abortion clinics continues its decline with the announcement of the closing of abortion clinics in Texas, Florida, and California.
Whole Women's Health announced this week that its surgical abortion clinics in McAllen and Beaumont have permanently closed due to the new law passed last year that requires abortion facilities to meet minimum safety requirements, including hiring only abortionists that maintain local hospital privileges. The McAllen location had "temporarily" closed in January.
Operation Rescue had lodged complaints about the Whole Women's Health clinics in McAllen, Beaumont, and Austin after discovering they were improperly dumping "identifiable" aborted baby remains a during an undercover investigation in 2011. This led the Austin and McAllen locations to be heavily fined.
In addition, the North Florida Women's Health & Counseling Service in Tallahassee has announced in public notices that it will be closing permanently on March 31. That surgical abortion clinic has operated continuously since 1981.
Surgical abortion clinics are not the only ones closing. Planned Parenthood's office in Sunnyvale, California, which offered only medication abortions (RU-486) shut down in January.
"We are on track to see another great year. Every time an abortion clinic closes, lives are saved because women have a greater opportunity to seek other means of coping with the challenges they face. This is great news for women and their babies," said Troy Newman, President of Operation Rescue.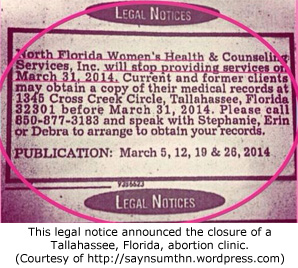 Also out of business for good is Lester Minto's Reproductive Services in Harlington, Texas. Minto stopped abortions in November due to the new Texas law, but continued to see abortion patients who had taken abortion pills procured in Mexico or other locations. This week he announced on MSNBC's Rachel Maddow Show that he has closed his clinic permanently and is selling his building.
Minto's clinic joins real estate market along with the former New Women All Women abortion building in Birmingham, Alabama, which was put up for sale this week.
So far in 2014, seven surgical abortion clinics in four states have announced closure with one abortion pill clinic closing. Those states are California, Florida, Texas, and Iowa.
One of those abortion clinics, the Family Planning Associates in Montclair, California, remains closed as of this writing, but has obtained a potential new location, but has yet to clear several legal hurdles before reopening.
This continues the trend of abortion clinic closures documented by Operation Rescue, which maintains the most accurate list of abortion clinics in the U.S. In 2013, a record 87 surgical abortion clinics and 6 abortion pill-only clinics closed.
The closures are attributed to new laws that are weeding out abortion clinics that cannot meet minimum standards. Also, an increase in pro-life sentiment and greater reporting of abortion abuses by pro-life groups have also contributed to the closures.
"Along with laws that are putting abortion quacks out of business, more and more women are simply rejecting abortion. When demand for services drops, businesses go under, and that is what we are now seeing in the abortion cartel," said Newman. "This trend reflects a fundamental change, which we believe will ultimately lead to an end of abortion in this country."