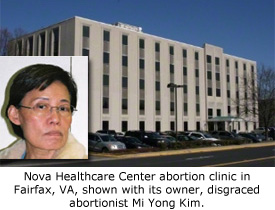 June 9, 2013 – Nova Women's Healthcare, a Fairfax, Virginia, abortion clinic with a history of botched abortions and at least one patient death, will be forced to close at the end of June.
This closure is one of 30 abortion clinics to close in 2013 alone, more than doubling the number of closures over all of last year.
"With the increased attention on abortion clinic abuses, we are beginning to see a trend toward greater awareness and enforcement. Many of the 30 clinics to close this year have done so due to enforcement measures," said Troy Newman, president of Operation Rescue. "Others closed due to lack of business, which means the pro-life movement is succeeding at changing the public opinion and behavior toward abortion. In 1991, there were 2,176 surgical abortion clinics in America. After the closure of Nova at the end of this month, there will be only 630 surgical abortion clinics left. While we still have a long way to go to end the barbaric practice of abortion in this nation, we have shown real progress."
Local activists working with Operation Rescue and other national groups learned the news when attending a City Council meeting on May 14, 2013, to oppose plans for relocation of the abortion clinic to a prominent location on Main Street. Nova's lease in its current location was terminated via a lawsuit by the property owners on the grounds that the abortion clinic created a nuisance.
Nova had previously applied for a building permit but was denied because it was one parking space short of compliance with city ordinances. It attempted to reapply as a "Health Spa" to circumvent the need for the additional space, but the city manager saw through the rouse and again denied the application.
Pro-life activists once again heard of plans to relocate the clinic for a proposed July opening. Over 20 activists attended the City Council meeting on May 14 and spoke in opposition to the plan, noting the negative aspects of the abortion business. One activist noted that that often women were observed at the present location lying in the common areas, bleeding and vomiting.
Fairfax Mayor Scott Silverthorne informed the audience that the clinic had withdrawn its application the previous day, noting that if another application were to be submitted, he would "go the extra step" and make sure that the community and churches were well informed.
Operation Rescue had publicized a medical emergency at Nova involving a 35-year old diabetic patient suffering from heavy bleeding after an abortion who was rushed to the hospital on March 3, 2012. Operation Rescue had reason to believe that the clinic owner, Mi Yong Kim, may have been involved in the botched abortion even though her medical license had been surrendered in 2007 amid findings that she improperly sedated a patient in 2005 and failed to realize that the woman had gone into cardiac arrest. Kim did not attempt to resuscitate her and the woman died as a result. Operation Rescue filed complaints against Kim and the clinic.
An unannounced inspection of Nova was conducted by state officials two months later, which revealed numerous health and safety violations, generally substandard care, and an additional botched abortion patient that required emergency hospitalization.
Public pressure brought by local pro-life activists, including Ruby Nicdao, helped bring about the closure by exposing the harm caused by the clinic.
"A short battle has been won, but the war continues," Nicdao told Operation Rescue.
"Nova will be closing due to the dogged determination of a core of local activists who pursued every available opportunity – from prayer to public protest – to expose this heinous abortion mill and protect the public from its dangerous practices," said Newman. "Ruby Nicdao and her fellow activists are to be commended."
For more information about abortion clinic closures and documentation of abuses, please visit AbortionDocs.org.