Action must be taken to preserve the integrity of potentially incriminating abortion records.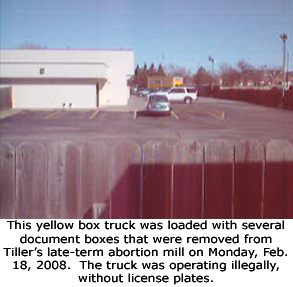 Wichita, KS – A large Penske box truck arrived at Women's Health Care Services on Monday, February 18, 2008, and was loaded with several boxes that appeared to contain documents, according to eye-witness Margaret Weaver, who was monitoring the late-term abortion mill. The clinic was not open to patients at the time, and no other vehicles came in or out of the parking lot.
What made the incident more suspicious was that the truck's license plate had been removed.
"Trucks of this nature are often leased to businesses," said Operation Rescue President Troy Newman. "But driving a motor vehicle without a license plate is illegal. No legitimate business would operate like that. Something is obviously going on there that Tiller and his secret collaborator do not want anyone to know about."
What makes yesterday's incident even more suspect is the fact that currently Tiller is resisting subpoenas from a grand jury that has requested 2,000 abortion records, with patient identifying information redacted, in their investigation of illegal late term abortions. The Kansas Supreme Court issued a stay until briefs can be filed. A ruling from the Court on the release of the records to the grand jury is expected after February 25.
"Something must be done to preserve the integrity of those records until the court rules," said Newman. "We already know that Planned Parenthood falsified records submitted to a judge in another Kansas abortion investigation. We also documented shredding trucks at Tiller's destroying documents just days before a Supreme Court ruling on a different records request. Tiller cannot be trusted. From past performance, it is obvious that he will stop at nothing to avoid having to hand over accurate abortion records that could land him in prison, and that includes altering, moving or destroying incriminating evidence."