By Cheryl Sullenger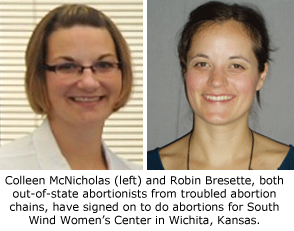 Wichita, KS — South Wind Women's Center has recently hired two out-of-state abortionists that hail from two abortion chains with histories of abortion abuses. They join two other abortionists at South Wind who also have troubling issues that could negatively impact women who seek abortions at the Wichita, Kansas abortion facility.
Colleen P. McNicolas, 34, is a Doctor of Osteopathy that has worked at Planned Parenthood in St. Louis, Missouri, the site of 25 documented incidents of abortion-related medical emergencies requiring hospitalization since 2009. Her published papers show that in addition to abortion, she has a particular interest in long-term "contraception," including the use of Intrauterine Devices on women, which are known to cause very early abortions.
Robin Bresette, 37, is known to supply abortions for the Texas-based abortion chain, Whole Women's Health, at their Minneapolis, Minnesota, facility, and also at the last abortion center in North Dakota, Fargo's Red River Women's Center. Operation Rescue documented that Whole Women's Health facilities in Texas were engaged various abortion abuses, including the illegal dumping of aborted baby remains for which it was heavily fined.
Both McNicholas and Bresette were licensed in Kansas earlier this year, with Bresette's permanent license going into effect on September 8.
"We can only expect that these two abortionists will import their shoddy practices to Kansas, which already has its share of substandard abortion operations," said Operation Rescue President Troy Newman. "We are raising the alarm about the competency and safety concerns with all South Wind's abortionists, which are a very troubled lot with histories that should shake everyone's confidence in the clinic's ability maintain accepted medical standards."

The two women join South Wind's primary abortionist, Cheryl Chastine, who recently admitted in numerous posts on Twitter.com to suffering from a mental health disorder, for which she is heavily medicated. Chastine was fired from her non-abortion job at a legitimate medical facility near Chicago, Illinois, after pro-life activists there publicly exposed her involvement with abortion in Kansas. Prior to her employment at South Wind last year, Chastine had no experience with abortion procedures whatsoever.
Also listed as providing abortions as South Wind is the notorious Missouri abortionist Allen Palmer, 75, who works part-time for Planned Parenthood in Overland Park, Kansas, a facility that was charged by former District Attorney Phill Kline with 107 criminal counts related to illegal late-term abortion and manufacturing evidence to cover their crimes. Those charges were eventually dismissed after incriminating evidence in the custody of the State Attorney General's office was mysteriously destroyed.
Palmer, who works on a sporadic, extremely part-time basis at South Wind has his own background of problems with the law. In 1979, Palmer was convicted and incarcerated for corporate tax evasion. His Missouri medical license was suspended two years later and he was placed on a five-year probation.
"South Wind has managed to round up abortionists who are at the bottom of a very rotten barrel. We are legitimately afraid for the lives of women who may seek abortions at that facility," said Newman.
South Wind Women's Center opened last year in the same building that once housed George Tiller's late-term abortion business. It is operated by Tiller's former political lobbyist, Julie Burkhart, who has no medical background.
To make matters worse, a 2011 Kansas law that would have required abortion facilities to be licensed and meet minimum safety requirements has been held in limbo in a state court with no action since August, 2012. Currently, South Wind, which cannot meet the requirements in the 2011 licensing law, is completely unaccountable to any state oversight agency.
"Given the backgrounds of South Wind's abortionists, such as mental disease, a criminal conviction, and a long list of botched abortions, the fact that there is no accountability for this abortion business means that women who walk through its doors are in serious jeopardy of being carried out on a gurney to the emergency room or to the morgue," said Newman.
Operation Rescue is seeking to persuade Gov. Sam Brownback through a petition to instruct the Attorney General's office to immediately being to defend the abortion facility licensing law that is languishing in a Shawnee County Court without action for over two years.
Please sign the petition to urge Gov. Brownback to order the Attorney General to defend the 2011 abortion facility licensing law.