By Cheryl Sullenger
Forestville, MD – A disgraced Maryland abortionist, who has had his license suspended twice, is complaining that his problems stem from complaints filed by Operation Rescue.
Alexander granted an interview to a WJLA reporter where he claimed he was the victim of a "conspiracy" that resulted in his most recent legal problems.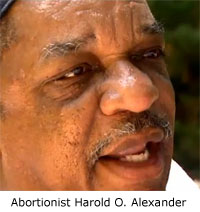 "Alexander blaming us for his troubles with the Board of Physicians is really a compliment to Operation Rescue and a testament to the effectiveness of our work," said Operation Rescue President Troy Newman. "We did in fact file complaints against him when our investigations revealed that he was in violation of the law. We are relieved that he is not currently allowed to practice medicine due to our efforts because while is is not working, he is not killing. That means lives are saved."
In 2011, Operation Rescue discovered that Alexander was involved in a shady late-term abortion scheme with disgraced Florida abortionist James Scott Pendergraft, IV. Alexander's Integrated Ob/Gyn abortion clinic in Forestville, Maryland, acted as a secret late-term abortion location for patients of Pendergraft's seeking extreme late-term abortions that are illegal elsewhere. Even though Pendergraft never held a license to practice in Maryland, he offered to in inject the lethal drug digoxin into the preborn babies' hearts for a hefty fee that was to be wired directly into Pendergraft's Florida bank account.
Operation Rescue filed a complaint against Alexander for his part in Pendergraft's dangerous bi-state abortion racket. When the MDBP subpoenaed medical records related to his business with Pendergraft, Alexander reported that he had shredded the records.
On August 22, 2012, the MDBP found that Alexander had committed unprofessional conduct when he shredded the medical records engaged in a host of abuses including sexual boundary violations, multiple botched abortions, shoddy or non-existent record keeping, and the illegal prescribing of large amounts of Viagra and other drugs to himself and non-patients.
That 2012 order placed Alexander on his first three-month suspension and two years of probation.
In fact, Alexander was on probation when the MDBP confirmed through their own investigation that Alexander was operating an abortion clinic without a license to do so.
Last June, Operation Rescue urged the Maryland Office of Health Care Quality to close Alexander's Integrated OB/GYN abortion clinic in Forestville after publishing an exposé documenting the fact that Alexander was conducting an illegal surgical abortion operation out of an unlicensed abortion facility in violation of Maryland regulations.
Four months later, on October 21, 2013, the Maryland Office of Health Care Quality (OHCQ) conducted an inspection of Alexander's abortion facility and confirmed Operation Rescue's allegation that Alexander had failed to obtain either an abortion facility license or hospital privileges as required by law, according to the newly-released MDBP documents.
That inspection also found additional disturbing admissions and violations.
Alexander employed only two workers, neither of which were licensed or qualified to perform medical duties. Nevertheless, Alexander instructed one of them to administer sedation to patients even though they were unqualified to do so. One of his employees, who was only hired in June and had no formal medical training whatsoever, became his surgical assistant. His only other employee, who was hired as a receptionist, also assisted in patient care – if you can call it that.
On April 16, 2014, Alexander once again had his medical license suspended for three months, according to a consent order issued by the Maryland Board of Physicians.
"Alexander's problems are of his own making. His own shoddy medical practices and misbehavior are to blame. The fact that he would fail to take responsibility for his conduct is a symptom that his objectionable behavior will only continue once he is allowed back into his abortion clinic," said Newman. "It was our duty to report his wrong-doing and if we discover that he is back up to his old bad habits, we will not hesitate to report him again."