By Cheryl Sullenger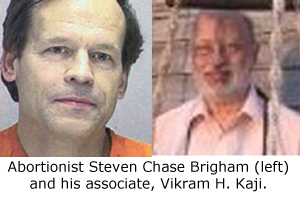 Trenton, NJ – The disgraced abortionist Steven Chase Brigham has avoided having to appear in court today by finally complying with a subpoena and turning over business documents sought by the Attorney General's office.
Brigham lost his New Jersey medical license last year, disqualifying him from legally owning his eight New Jersey abortion clinics.
Brigham reported that he transferred ownership to long-time employee Vikram Kaji, but the transfer was a sham. Under questioning by the New Jersey Board of Physicians, Kaji denied owning the abortion facilities.
Operation Rescue filed a complaint seeking to nullify the phony transfer. Kaji was charged with fraud for going along with Brigham's attempt to deceive authorities into thinking he had relinquished ownership.
The Attorney General's Consumer Affairs Division is investigating Brigham for illegally owning the abortion clinics that operate under the American Women's Services banner.
According to NJ.com:
State Division of Consumer Affairs spokesman Jeff Lamm confirmed Tuesday that Steven C. Brigham submitted annual reports and contracts associated with the abortion clinics he was expected to forfeit when the board of Medical Examiners revoked his license a year ago for gross negligence, deception and official misconduct.
Brigham also turned in records pertaining to his four corporations: American Healthcare Services, Advanced Professional Services, Alpha Real Estate and American Wellness Services, Lamm said.
Documents for at least two other known business entities controlled by Brigham, Integrity Family Health and Grace Medical, were not included.
"Again, we caution authorities not to take Brigham at his word. He has more shell corporations that most people have socks. It is almost guaranteed that he has not turned over everything," said Operation Rescue President Troy Newman. "It is clear that Brigham is operating his New Jersey abortion clinics illegally. They should be shut down immediately!"