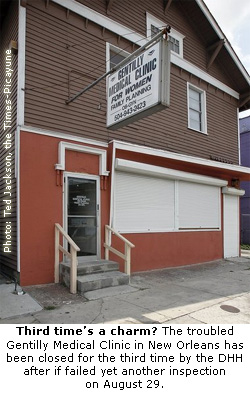 New Orleans, LA – For the third time, the Louisiana Department of Health and Hospitals (DHH) has issued a cease and desist order to Gentilly Medical Clinic for Women in New Orleans, Louisiana. The clinic has been found to have health code violations and inadequate nursing care that has created a danger to the public.
Calls to the clinic placed Thursday morning went straight to voice-mail, which was in keeping with news accounts that the abortion clinic had closed.
DHH Secretary Bruce Greenstein issued a strongly worded press release on Tuesday where he stated, "The repeated violations of Gentilly Medical Center demand action. I assure the public that as long as these facilities are under my watch, I will hold them accountable and use every tool available to make sure Louisianians are not put in danger."
This week's action was taken after the Gentilly clinic failed an inspection on August 29, 2011, which was conducted to confirm whether or not deficiencies had been corrected. They had not, and additional violations were discovered, including filthy conditions in the abortion room.
"Fundamentally, this is about the health and safety of women, first and foremost," said Secretary Greenstein in his press statement. "No one should have to face these kinds of conditions regardless of the medical services they are seeking. Enough is enough. I will do everything in my power to keep this place closed."
"Women deserve better than to be forced to endure such appalling third-world conditions as found at the Gentilly abortion mill," said Operation Rescue President Troy Newman. "If these abortion clinics won't keep the law and clean up, they should be closed. The truth is that regulations do work to close clinics and save lives because it gives authorities the mechanism they need to step in when the abortionists predictably refuse to comply. That makes it a safer world for pregnant moms and their pre-born babies."
Each time the DHH has attempted to protect women from the dangers at the Gentilly clinic, the owner, abortionist Ifeanyi Charles Anthony Okpalobi has appealed the ruling, which has allowed him to remain open even though his operating license has been revoked. An appeal of the current DHH order to cease operations is still possible.