By Cheryl Sullenger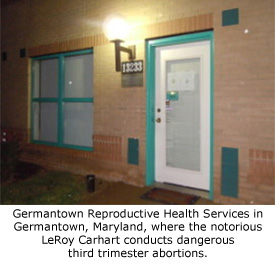 Baltimore, MD — The State of Maryland Office of Health Care Quality has suspended the licenses of four abortion clinics with connections to the notorious abortionist Steven Chase Brigham for violations that caused one patient's death and endangered the lives of other patients, according to a letter released on May 24, 2013.
In the same letter, the OHCQ minimized deficiencies found at Carhart's Germantown Reproductive Health Services six days after the death of a patient from complications to a 33 week abortion.
The letter, which was signed by Joshua M. Sharfstein, M.D., the Maryland Department of Health and Mental Hygiene updated the status of compliance for 16 abortion clinics currently licensed to operate in that state under new regulations that went into effect last year.
There were four matters of note in the update:
1. Licenses of four abortion clinics operated by Associates in OB/GYN Care, LLC, in Baltimore, Frederick, Cheverly, and Silver Spring, were suspended after the Office of Health Care Quality (OHCQ) found violations that "posed a serious and immediate danger to patients." This included the discovery of the death of an abortion patient from a 12.5 week abortion she received on February 20, 2013, at the Baltimore location.
2. The OHCQ found no deficiencies at Germantown Reproductive Health Center during an inspection conducted on February 13, 2012, just six days after Jennifer Morbelli died from complications to a 33 week abortion done by LeRoy Carhart.
3. Deficiencies were discovered in 12 out of 16 abortion clinics inspected that required a plan of action.
4. An investigation of abortion clinics that continue to operate illegally without proper licensure is underway by the OHCQ.
Four Brigham-affiliated Clinics' Under Suspension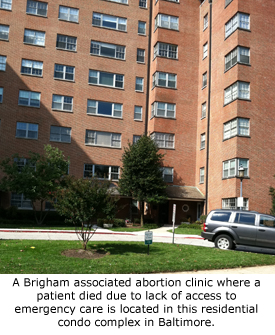 The licenses of three Associates in OB/GYN Care had been suspended on March 5 after an initial inspection on February 21 – one day after a patient fatality – discovered serious violations including a broken defibrillator, lack of CPR training in all staff, expired drugs, lack of proper sterilization, and other violations.
The handwritten correction plan notations had an air of defiance, noting at one point, "No patients have been adversely affected by this deficiency, next to allegations that the non-functioning defibrillator had pads that were out of date and stuck together had a sign attached that read, "Do not use."
The deficiency report indicated that the broken defibrillator in fact was never used on the patient who at some had quit breathing. Inadequate and improper resuscitation measures were taken by the female abortionist on duty, who was not certified in CPR. The patient was declared dead as the result of abortion complications and brain damage suffered from a lack of oxygen five days later.
Remarkably, after the clinics provided a plan of correction, the suspension was lifted on March 25.
A second investigation concluded on May 9 based on an anonymous complaint alleging violation related to care of a specific patient. Their investigation discovered that it was the practice of all four Brigham-affiliated abortion clinics for unlicensed worker to unilaterally dispense Misoprostol, a drug that causes strong and unpredictable uterine contractions, to all patients 11 weeks gestation and beyond even if the abortionist is not present or has never seen the patient. The group of clinics stopped responding to calls and e-mails from the OHCQ. As a result, the licenses of the four abortion clinics were summarily suspended on May 9.
"It is just appalling that clinics that have proven to be public health dangers are given one chance after another all the while continuing to endanger the lives and health of women," said Operation Rescue President Troy Newman. "Under Brigham's influence, these clinics will continue to defy the law if they are ever allowed to reopen. This has to be the last straw for these shoddy abortion businesses."
Carhart Confusion

Sharfstein also noted in the letter updating the status of surgical abortion clinic that a complaint concerning the death of Jennifer Morbelli on February 7 had prompted an inspection of Germantown Reproductive Health Center six days after her death. Sarfstein stated that , "OHCQ identified no deficiencies with respect to this complaint."
However, several violations were discovered at that time, including a lack of staff competence and training in IV sedation administering and monitoring, lack of training in emergency protocols, improper drug administration, lack of discharge diagnoses, an expired nurse's license, and failure to confirm Carhart's credentials.
"Even with six days to get their clinic in order, there were still significant violations, including a lack of training in emergency protocols. We know that no one from the clinic could be reached when Morbelli's condition worsened. Sarfstein's statements minimizing deficiencies found at Carhart's clinic have not alleviated our concerns that the staff's general lack of competency and training in emergency protocols impacted the care of Jennifer Morbelli or contributed to her death."
Many news services have jumped to the conclusion that Carhart was cleared of wrongdoing in the death of Morbelli, especially in light of the police closing the criminal investigation against Carhart last week. However, that conclusion is not accurate.
Operation Rescue filed a formal complaint with the Maryland Board of Physicians after Morbelli's death. The Board informed Operation Rescue on March 1, 2013, that a preliminary investigation had been launched.
It was confirmed today (May 28, 2013), that the case is still open and the investigation is ongoing.
"Our allegations that Carhart violated the standard of care in abandoning Morbelli after her abortion are still in play. If the Board finds that Carhart did in fact commit violations, he could face discipline, including license revocation. So the Carhart patient death case is far from over," clarified Newman.
Most Clinics Failed Inspections
Sharfstein indicated that 12 out of 16 abortion clinics failed their inspections and noted that common violations included failure to maintain sanitary conditions and failure to provide proper discharge diagnoses in the medical records.
Lack of sanitary conditions can lead to infections, transmission of diseases, and even death.
Illegal Abortion Clinics
The OHCQ stated it is looking into claims that some offices are conducting surgical abortions without proper licensure.
"The Department is investigating the referred complaints and intends to enforce the requirements set forth in its regulations," stated Sharfstein.
However, Operation Rescue is aware of several unlicensed abortion clinics in Maryland and independently confirmed as of last week that they continue to operate illegally.
"We have to wonder how long the State of Maryland will allow these illegal clinics to continue operating outside the oversight of the OHCQ. At least one clinic has an abortionist with a long history of abuses and is currently attempting to fly under the radar. We hope it won't take yet another abortion-related death in order for the authorities to act," said Newman.
In all, the inspections have revealed that unsanitary abortion clinics operating with multiple health and safety violations has been the norm in Maryland. Without proper oversight and sanctions, this will continue to be the case.
"Abortion clinics fight regulation and accountability because they know they cannot stand up under the scrutiny," said Newman. "Abortion is a nasty business and those who immerse themselves in it are really the bottom of the barrel as far as medical competency is concerned. The only real solution to the safety concerns raised by these businesses is to close them all permanently. Women would certainly be better off without these abortion dumps preying on them."
All site inspection reports can be examined at http://dhmh.maryland.gov/ohcq/AC/SitePages/Surgical%20Abortion%20Facility%20Surveys.aspx.