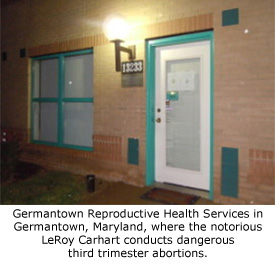 Germantown, Maryland – Germantown Reproductive Health Services, (GRHS) where late-term abortionist LeRoy Carhart gave a patient a fatal 33-week abortion, was licensed by the Maryland Office of Health Care Quality last July, but was never inspected prior to licensing nor was it inspected as of the time of the patient death on February 7, 2013.
"It is a wonder how the Office of Health Care Quality verified that Carhart's high risk late-term abortion clinic met the qualifications for licensure if it never bothered to conduct an inspection," said Troy Newman, President of Operation Rescue and Pro-Life Nation. "It is unbelievable that the State of Maryland would be so reckless after all the trouble it has had with illegal late-term abortion businesses being operated by the likes of Steven Brigham and James Pendergraft. It's clear that the office dropped the ball."
It was Brigham's case that prompted Maryland to require abortion clinic licensing.
Brigham, a troubled New Jersey abortionist, was caught operating a secret and illegal late-term abortion mill in Elkton, Maryland in September, 2010. He and his associate, Nicola I. Riley of Utah were later charged with murder after a police raid of the facility discovered the remains of 35 late-term aborted babies, many viable, in a freezer. Those charges were dismissed after an expert witness for the prosecution withdrew from the case.
Operation Rescue discovered in 2012 that the notorious Florida abortionist James S. Pendergraft IV was operating an illegal late-term abortion clinic in conjunction with Maryland abortionist Harold O. Alexander. Pendergraft had no medical license in Maryland and was on suspension at the time in Florida. Alexander's medical license was suspended due in part to an Operation Rescue complaint.
New abortion clinic licensing requirements went into effect in Maryland on July 23, 2012. Documents obtained by Operation Rescue show GRHS submitted an application for licensure July 24, 2012, and received licensure that same day.
"An abortion clinic license application simply cannot be properly processed in just a few hours," said Newman. "There was obviously no real effort to ensure clinic safety of compliance. That is a betrayal of the public trust that depends on governmental oversight agencies to protect the public from substandard practices."
Even though Code of Maryland Regulation 10.12.01.04 requires abortion clinics to submit to inspections, the clinic was not inspected before or after licensing and had not been inspected as of February 7 when Jennifer Morbelli, 29, died from complications to a third-trimester abortion that was done by Carhart at GRHS, an outpatient abortion facility that lacked affiliation or support of any hospital in Maryland.
After Morbelli's death, the Office of Health Care Quality confirmed that it was investigating the clinic, but no results of that investigation have yet been released.
The GRHS license application indicates that it is accredited by the National Abortion Federation (NAF), a loose association of abortion clinics that have been found to be among the worst offenders of abortion laws and health and safety standards nationwide. The NAF routinely opposes clinic licensing and safety regulation laws.
"We hope Maryland was not counting on NAF accreditation as proof of compliance with Maryland laws since NAF clinics are notorious for being among the worst in the country," said Newman.
Other NAF members have included:
• Two shoddy Delaware clinics associated with Philadelphia, Kermit Gosnell, that were forced to close by the state.
• A California abortion chain, Family Planning Associates, which is responsible for at least 11 patient deaths. At just one FPA facility in Bakersfield, there have been a reported three abortion-related medical emergencies in the past 5 months.
• A Kansas abortion clinic, Central Family Planning, which is under investigation for illegal dumping of human remains and private patient medical information.
• A Texas abortion chain, Whole Women's Health, which was fined along with its disposal company $83,000 for illegal disposal of human remains.
• Arizona abortionist Brian Finkel, who was sentenced to 35 years in prison for raping and otherwise sexually abusing over 100 of his abortion patients.
• A Wichita, Kansas, abortion clinic, Central Women's Services, where filthy conditions, dangerous building code violations, and a roach infestation were discovered after Operation Rescue bought and close it in 2006.
"The list of abuses by NAF abortion businesses goes on and on. If anything NAF accreditation should be a red flag to authorities that prompts very close inspection and oversight," said Newman. "If GRHS had been properly inspected, would it have prevented the tragic death of Jennifer Morbelli? We may never know the answer to that question."
In related action, Operation Rescue filed a formal complaint with another oversight agency, the Maryland Board of Physicians, on February 20, 2013, and has asked for the immediate suspension of Carhart's medical license until a full investigation and permanent disciplinary action can be completed.