By Cheryl Sullenger
Peoria, IL – A desperate 911 call from a Peoria abortion facility National Health Care (NHC) on February 20, 2015, reveals details of a dangerously botched abortion involving heavy hemorrhaging that the abortionist was incapable of controlling.
During the emergency call for help that lasted under a minute, an abortion worker repeatedly told the 911 dispatcher, "We need somebody very quickly."
"This is an abortion clinic and we have a patient who's bleeding very heavily and the doctor is not able to get too much of a grip on it," the caller reported.
This life-threatening abortion complication comes at a time when the executive director of NHC, Margaret Vanduyn, is publicly opposing efforts by the Illinois legislature to pass a bill that would require abortion facilities to be inspected yearly.
Vanduyn claimed that abortion clinic inspections are "unnecessary" and that the inspection bill is "politically motivated."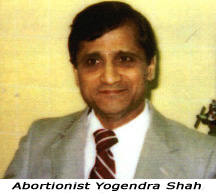 However, Operation Rescue has documented at least eight abortion-related medical emergencies at Illinois abortion facilities that required hospital intervention in the past three years, including one patient death.
"Abortion patient Tonya Reaves bled to death after a botched abortion at Planned Parenthood in Chicago a couple of years ago, and now another woman has nearly bled to death just three weeks ago in Peoria," said Troy Newman, President of Operation Rescue. "Illinois abortion clinics are not equipped to handle the medical emergencies that are injuring and killing unsuspecting women. That is reason enough to justify yearly inspections. However, abortion clinics that oppose such common-sense laws obviously have a lot to hide."
Witnesses at the scene in Peoria on February 25 have identified the abortionist on duty at the National Heath Care abortion clinic at the time of the incident as the notorious Yogendra Shah, who works as the primary abortionist at the high-volume Hope Clinic for Women in Granite City.
Shah was sued for conducting an abortion on a woman who was not pregnant in 1998. He then unsuccessfully countersued the woman, seeking a gag order and $1 million in damages after she went public with her claims.
National Heath Care also employs two other abortionists who work on a rotating basis with Shah in Peoria.
One is Mandy Gittler, a Planned Parenthood abortionist who was responsible for fatally botching Tonya Reaves' second-trimester abortion in 2012. She also works at the Planned Parenthood abortion facility in Kalamazoo, Michigan.
The other is Allen Palmer, an elderly "retired" Missouri abortionist that also currently works for Planned Parenthood in Overland Park, Kansas.
"With a staff of seedy abortionists like the National Health Center's, it is no wonder that they do not want inspectors at their facilities. We call the Illinois Medical Board and Department of Public Health to fully investigate February's near-death incident and take whatever action is necessary to protect women, including shutting down this dangerous abortion clinic," said Newman.
Take Action!
Please contact the Illinois Department of Health at 1-800-252-4343 and demand inspections at all Illinois abortion facilities.