By Cheryl Sullenger
Washington, DC – In this day of smart phones and computer dependency, when Americans have a question about any given topic, they click on their favorite search engine to type in their topic of curiosity. It is pretty much guaranteed that a Wikipedia article will be among the top results.
That includes information about abortion, and abortion-related topics.
But is that information reliable?
When people search for information about abortion, they may not realize that the Wikipedia entries are being heavily edited from a team of abortionists and abortion researchers with the Society of Family Planning (SFP). This is a group that, according to their website, "provides support for abortion and contraception research."
The Society of Family Planning is one of many pro-abortion globalist organizations and foundations that provide funding to the Bixby Center for Global Reproductive Health abortion training programs.
Last year, the SFP merged with the Bixby-operated Fellowship of Family Planning abortion training program. Tessa Madden of Washington University St. Louis, a former abortionist at the Reproductive Health Center Planned Parenthood, who as served as Director of the Fellowship in Family Planning program there now serves as SFP's new Board President.
So far, since June 2019, the Society of Family Planning has sponsored training for 32 members – primarily abortionists – who learn how to edit Wikipedia articles. They undergo a 12-week training course via on-line group sessions with Wiki Education's staff, which boasted of their SFP program in a November 2019 blog post.
Participants receive $1,250 from the SFP to participate in the program.
The SFP boasts that their Wiki editors have updated over 64 articles "to correct misleading information" — something abortion supporters often call information that supports a pro-life viewpoint. Edited articles include some of the most-read abortion-related pages on Wikipedia.
"These abortionists are literally telling the world what to think about abortion," said Operation Rescue President Troy Newman. "This information is totally biased in favor of killing unborn babies."
Wikipedia's "abortion" entry was edited by user "UCDEBS," who was also a SFP Wikipedia program participant. USDEBS removed information that warned that abortion pills become less effective as pregnancy progresses beyond seven weeks — something that is still true even though the FDA expanded the use of abortion pills to 10 weeks after extensive lobbying by pro-abortion groups.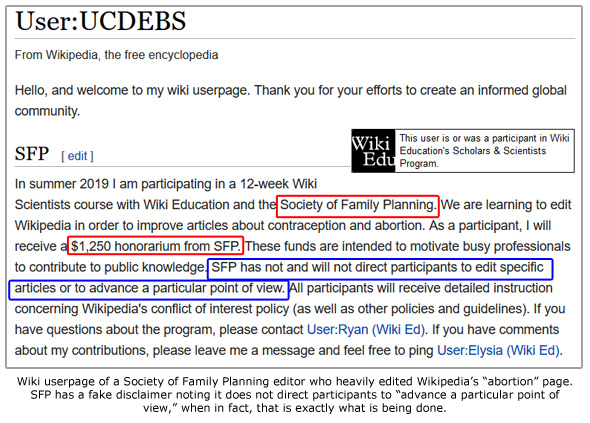 The user pages contain a disclaimer that reads: "SFP has not and will not direct participants to edit specific articles or to advance a particular point of view." However, that is exactly what they are doing by posting information from sources that favor, promote, and/or supply abortions.
An editor trained through the SFP program that goes by the handle "Beachsunsetlover," edited the Wikipedia entry for "reproductive rights" to include information and citations from globalist sources that promote abortion as a human right.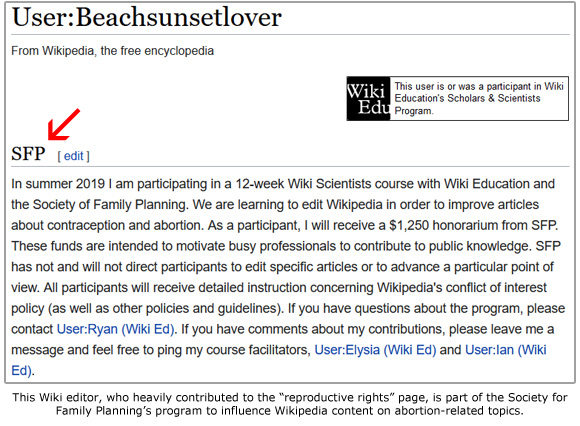 To show the bias of the "reproductive rights" entry, that page also cites information from abortion-promoting organizations such as the following:
Other Wikipedia entries heavily edited by SFP participants include Medical Abortion, Dilation and Evacuation, Unintended Pregnancy, Abortion Fund to name a few.
Four SFP members who have participated in editing Wikipedia entries held a workshop to promote the training program at their 2019 annual meeting. Those panel members included the following:
"The Society of Family Planning is engaged in a brazen propaganda campaign in partnership with Wikipedia, which is meant to influence public opinion in favor of abortion. Wikipedia articles reflect a depopulation agenda that SFP promotes and funds through the Bixby Center for Global Reproductive Health," said Newman. "We want people to know that Wikipedia's use of abortionists as editors for abortion-related content disqualifies it as a trusted source for unbiased information. Readers, beware!"
Related article: Targeted for Depopulation: This Organization Is Training Thousands of New Abortionists in America – and YOU are Paying for It!