OR urges medical boards everywhere: "Don't Ignore the Red Flags"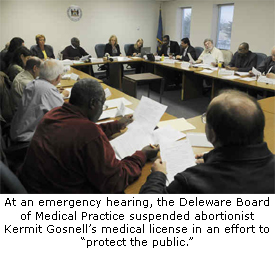 Dover, DE – The Delaware Board of Medical Practice suspended the medical license of Pennsylvania abortionist Kermit B. Gosnell yesterday during an emergency hearing. Gosnell's Pennsylvania license was suspended last week after authorities investigating an abortion death and drug violations discovered appalling conditions and a collection of aborted baby remains dating back 30 years.
Members of the Delaware Board based their decision to suspend Gosnell's license on action taken against him in Pennsylvania.
Raymond L. Moore Sr., the president of the Board of Medical Practice, issued the following statement: "Based upon the severity of the violations alleged in the complaint, and based upon the suspension of Dr. Gosnell's license in the state of Pennsylvania, we have concluded that the suspension of Dr. Gosnell's license to practice medicine in Delaware is necessary to protect the public until we can fully hear the matter."
Operation Rescue has confirmed that Gosnell is not licensed in any other state. Gosnell once held a license in New York, but in 1996, he was censured, reprimanded, and fined $1,000 there for allowing an unlicensed worker to treat patients. His license status in that state is currently listed as "not registered."
"We commend the medical authorities in Pennsylvania and Delaware for taking emergency action to protect the public from this dangerous man, but it is tragic that two women had to die before action was taken to protect women, especially in light of his long history of abuses," said Operation Rescue spokesperson Cheryl Sullenger.
"This case should be a wake-up call to medical oversight boards across the country. Don't ignore the red flags when it comes to abortionists because doing so places the lives of women at risk."
Read more on Gosnell's troubled background.