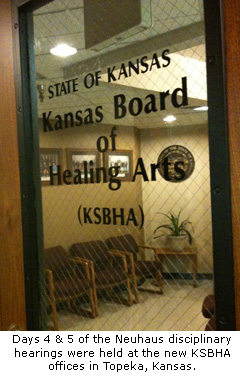 Topeka, KS – Testimony in the disciplinary hearing of abortionist Ann Kristin Neuhaus was abruptly suspended on Friday when it was discovered that an expert witness for the defense was unprepared to give testimony on his deposition statement because he had failed to review it for corrections.
Friday was the fifth day of hearings that were only scheduled to run four days. The hearing will resume at a yet to be determined date.
Defense Missteps
The unprepared witness was one of several gaffes made by the defense. Earlier in the day, two former employees of a now-closed late-term abortion clinic where Neuhaus provided her consults were slated to testify. However, Sara Love and Debra Esquina were prevented from testifying because an attorney at the Wichita law office where the women had gathered for questioning via telephone had failed to sequester them during testimony of former office manager JoAn Armentrout.
Sara Love was allowed only to testify about her screening work with abortionist LeRoy Carhart's Maryland late-term abortion business. Carhart is also a former employee of George Tiller's Women's Health Care Services in Wichita, Kansas. Love has no medical background, yet continues to use forms identical to those used at WHCS to screen prospective late-term abortion patients over the telephone for mental health problems. Concerns were expressed that the forms are inadequate for the purpose for which they were used.
Shoddy Mental Health Diagnoses
Neuhaus is accused of making eleven improper referrals for late-term abortions to Tiller in 2003, for patients aged 10-18 who were all in their third-trimester of pregnancy. Neuhaus is also accused of shoddy record keeping and inadequate patient care. If the Kansas State Board of Healing Arts finds that Neuhaus violated the "standard of care" she could face license revocation.
Testimony concerning the records shows a picture of adolescents upset about having to face difficult life situations. However, no condition seemed to meet the legal standard of posing a "substantial and irreversible" risk to the patient's mental health. There was a young rodeo barrel rider who thought her career was over, even though there is no evidence that women who have babies cannot compete as barrel riders. In another case, a teen who enjoyed playing basketball found that pregnancy took the fun out of the sport for her and wanted an abortion in the third-trimester.
In fact, there is reason to believe that the mental health exception to the Kansas ban on post-viability abortions was wrongfully exploited to justify abortions that would otherwise be illegal.
In any case, all information about the patients' situations came from forms filled out by the patients or Tiller employees. Neuhaus made no notations in her files that reflected any individual patient circumstances. No record contained any basis for the diagnoses or any suggested aftercare or referral of any kind for these alleged mental health conditions.
Below is a chart detailing the patients' situation and Neuhaus' diagnoses. [Article continues below chart.]
Chart NeuhausPatients2
In a Hurry to Restore License
Neuhaus' current license only allows her to provide charity care. She has applied to have her license fully restored as soon as possible. There has been some effort to resolve the current eleven counts against her by the end of the year, but her own defense mistakes have now put that goal in jeopardy.
"There's no doubt that Neuhaus has a job waiting and is highly motivated to get this over with," said Operation Rescue's Senior Policy Advisor Cheryl Sullenger, who is the complainant in this current case. "If she is allowed to return to the abortion business, there is no doubt in my mind that she will continue to endanger women. Revocation is the only way to protect the public because Neuhaus has clearly expressed that her own priorities take precedence over obedience to the law. That makes her dangerous."
"I'm here to comply with the law, but once I step into the clinic, my own priorities take precedence," Neuhaus testified.
Rambling and Unfocused
Neuhaus gave often rambling and unfocused testimony for which she was repeatedly warned by the presiding officer and her own attorney. She talked about 11 patient records that lacked any fundamental information of her observations of the patients or any basis for her computer-generated diagnoses, using a program called PsychManager Lite. In fact several patients with widely varying circumstances had identical computer print-outs in their records as the only evidence of Neuhaus' interaction with them. One file lacked any diagnoses, and another file indicated that the diagnosis was generated days after the completion of the abortion, raising questions that those abortions were illegally done.
"Boogie Man" Defense
She blamed her omission of critical record contents required by Kansas Administrative Rules on pro-life activists. She feared that one day the records might fall into the hands of Attorney General Phill Kline or other pro-lifers.
"This is nothing more than a 'Boogie Man' defense," said Sullenger. "No patient identities have ever been made public and the records have had more security precautions than the nation's nuclear secrets. Nobody really cares about who these patients are. We do care that they were given shoddy evaluations that bordered on quackery in violation of the law, and would like to make sure no one else is subjected to Neuhaus' bad doctoring."
Cozy Relationship to Expert Witness
Neuhaus presented one expert witness to counter the testimony of Dr. Liza Gold of Georgetown University, who testified that Neuhaus' records and alleged evaluations for which there was no documentation, were inadequate and fell well below the standard of care.
That witness was Dr. K. Allen Greiner, a professor at the University of Kansas, who runs a family practice clinic. Greiner testified that he met Neuhaus 3½ years ago while working at the Wyandotte County Health Department. The two became friends. She expressed an interest in a fellowship program that he directed. He accepted her into the program without her having filled out the required program application or submitting required letters of recommendation. He admitted to mentoring her and meeting with her to guide and direct her career path.
Greiner testified that Neuhaus approached him and asked him to testify as an expert witness on her behalf because she was having trouble finding a witness who would testify for her. Greiner said he told her that he would do it only if she could find no one else. Since no one else was found, Greiner agreed to testify without compensation as a favor to friend.
Neuhaus had assured him that the case was not adequate to cause her to lose her medical license, which is clearly untrue.
Greiner also testified that he reviewed the charts and had questions about them. He called Neuhaus and heard her explanation of the charts and concluded that her charts were in keeping with the standard of care.
Rules are Rules
However, KSBHA prosecuting attorney Reese Hays reminded Grinder that he is a physician licensed in Kansas and subject to the Board's regulations. Greiner expressed unfamiliarity with the requirements of Kansas Administrative Regulations regarding the contents of medical records as read to him by Hays.
Hays asked Greiner if he was capable of keeping a rule if he did not know what it was. Greiner responded, "I am certainly capable of keeping a rule if I don't know what it is."
Greiner was given seven more days to review his deposition for corrections. No date has been set for when the hearings will resume.