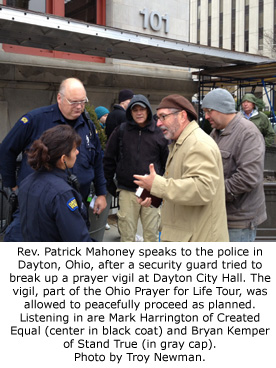 Dayton, Ohio – The Ohio Prayer for Life team experienced a moment of drama yesterday when a security guard tried to break up a prayer vigil at the Dayton City Hall.
The security guard seemed particularly annoyed that Troy Newman of Operation Rescue, was talking on his cell phone just inside the City Hall lobby where he had taken temporary shelter from the cold rain while waiting for the vigil to begin. Police were called to the scene and quickly straightened out the situation and the prayer vigil proceeded without further incident.
"This just shows how emotions are running high right now," said Newman. "The security guard completely overreacted. We are just glad that the situation easily handled and that the police respected our rights."
Earlier in the day, Troy and Rev. Pat Mahoney of the Christian Defense Coalition, spent time in prayer outside the Early Voting Booth in Columbus, where a "circus atmosphere" with campaigners from both sides had developed.
Operation Rescue has heard disturbing reports of "shenanigans" at that voting center, which seemed to be supported by a news article published yesterday that reported on a woman who complained to election officials after her attempt to vote for Romney was recorded on her touch screen as a vote for Obama.
"At this point, voter turnout and voter fraud are our two biggest concerns, not only in Ohio, but across the nation," said Newman. "We continue to pray and ask all good people of conscience to join us in praying for this election where ever they may be."
A rally is scheduled in Cincinnati this evening featuring Fr. Frank Pavone of Priests for Life, sponsored by Catholics for Ohio. Click for more information.
Check out the Ohio Prayer for Life Tour on Facebook for the latest updates.