by Ricardo Pinedo
"The Hope Clinic for Women" (HCW) in Granite City, Illinois, sent three more women to the hospital. Despite the fact that incidents are becoming more frequent at this facility, Operation Rescue has noticed a trend while reporting on these emergencies. Callers use vague language as they try to minimize or hide the seriousness of the situation. This is precisely what you will notice from the 911 calls you will hear in the video below. 
First Emergency: "Higher Level of Care for Evaluation"
On August 4, 2023, an ambulance was requested at the "Hope" Clinic. A pro-lifer standing outside witnessed the medical emergency and sent Operation Rescue photos taken from the scene.
During the 911 call, after being asked about the reason for the emergency, the caller vaguely responded that the patient needed to go to a higher level of care for evaluation. What kind of evaluation can this be? If it is not an emergency, why would the employee call 911?
And why were other routine questions not asked by the EMS dispatcher? Dispatchers typically ask about the cause of the emergency and the status of the patient. But questions about her breathing and consciousness were skipped. How would the paramedics know how to help a patient in an unknown situation? This use of ambiguous language leaves many unanswered questions.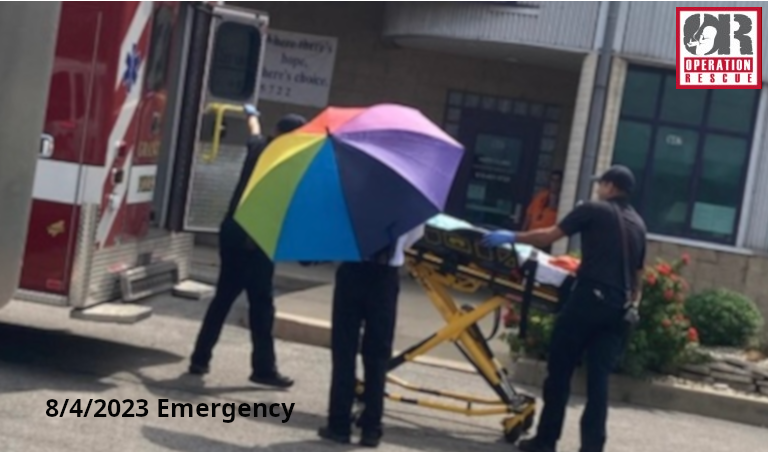 Second Emergency: "Some Bleeding"
Another emergency was reported on September 7, 2023, from the same location. In this case, the caller tried to minimize the situation using expressions such as "having some bleeding" and "controlled bleeding," although she made it clear they needed help "ASAP."
It is not uncommon to have excessive bleeding in botched abortion cases. One of the most common causes of this type of blood loss is uterine perforation, a situation that can be life threatening if the injured patient does not receive emergency medical intervention in time. Another cause of bleeding can be uterine atony and distension, which is provoked by an incomplete extraction of baby parts in the uterus. This can also lead to infections and even sepsis in some cases.
Another strange aspect of this emergency call involved the fact that these situations are becoming so frequent —between one and two emergencies reported per month— that the caller automatically assumed EMS personnel would know where to go.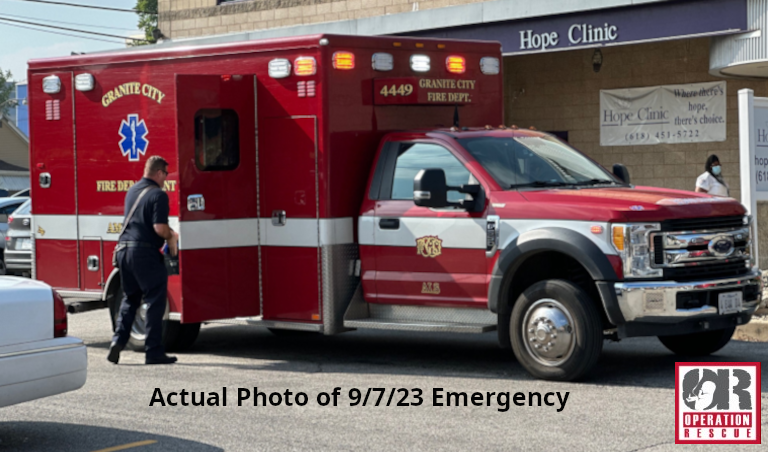 Third Emergency: "Sedation Purposes"
This is perhaps the most-challenging emergency to understand. On September 29, 2023, EMS received yet another call from this clinic, requesting an ambulance to transfer a 38-year-old woman to Barnes-Jewish Hospital, a Level 1 trauma center located in St. Louis, Missouri, for "sedation purposes."
When the dispatcher asked if this was a case of postoperative sedation, the caller agreed with hesitation. Her tone denoted the seriousness of the emergency, unlike a previous 911 call, when a HCW nurse could be heard laughing. Again, she hid the actual condition of the patient. What specifically does "sedation purposes" mean?
We are still left with more questions than answers. Did they administer the wrong sedation dose? Was the patient hemorrhaging? What vital signs indicated a call for EMS was necessary? All of these questions are unanswered and hidden in vague and ambiguous language, minimizing the seriousness of the problems.
And last but not least, the question must be asked If abortion is so safe, as abortion advocates like to say, what are they trying to hide?
"Time after time, we have said that abortion is not safe, said Troy Newman, President of Operation Rescue. "Not only does a baby's life end in a terrible way – dismembered in most cases – but many women are rushed to an emergency room after serious complications like perforations, hemorrhages, seizures, and more.
"And this so-called 'clinic,' is one of the worst. It is no wonder the staff tries to hide the injuries of their patients with what appears to be code language – all to minimize the risks of being discovered. Such disdain for the value of women should not be left unchecked."
Operation Rescue filed a formal complaint against HCW for its rampant traumatic injuries, after another botched abortion involving a 13-year-old girl who was sent to Barnes-Jewish Hospital as well.