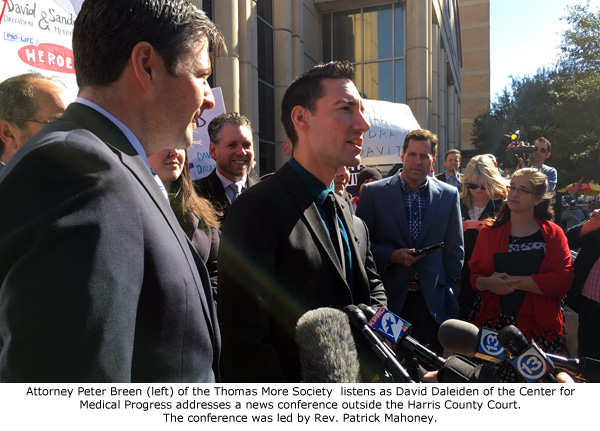 By DeAnn Flanagan
Houston, TX – Surrounded by a phalanx of attorneys and a crush of news reporters and cameramen, David Daleiden turned himself in to the Houston Courts on Thursday in response to the indictments handed down last week by a Harris County grand jury. Those indictments, one felony and one misdemeanor, were related to his undercover journalism work that exposed Planned Parenthood's illegal profit-taking from the sale of aborted baby organs.
Operation Rescue's Cheryl Sullenger and the Christians Defense Coalition's Rev. Patrick Mahoney were in court in support of Daleiden, head of the Center for Medical Progress, as he reported to two different court rooms and posted bail in the amount of $3,000.


Daleiden's booking and court appearances was followed by a well-attended press conference led by Rev. Mahoney, which featured Daleiden, two of his attorneys, Peter Breen of the Thomas More Society and Operation Rescue's Texas Attorney Briscoe Cain. Sullenger was also a featured speaker.
Daleiden's attorneys acknowledged that he had been offered a deal by District Attorney Devon Anderson that included a "diversion program," which would allow for a probationary period followed by a dismissal of all charges.
Daleiden's attorneys noted at a brief press conference in the hallway outside one of the courtrooms that he had no plans to accept the deal.
"The only thing we will accept is an apology," one attorney noted.
This sets up an interesting showdown between Anderson, a self-described "pro-life" Republican, and Daleiden's defense, which could presumably use a trial to as a platform to air more evidence against Planned Parenthood and expose Anderson's personal and political connections to an attorney who represented Douglas Karpen in 2013, who is the largest late-term abortionist in the Houston area.


At the larger press conference outside the courthouse, Rev. Mahoney began by telling the media "Houston, we do have a problem." He then went on to describe the injustice of charging citizen journalists who uncover and report crimes while letting the real perpetrators go free.
"We are standing in solidarity and say, 'When you attack David Daleiden and Sandra Merritt, you are attacking us and our community,'" said Rev. Mahoney. "Do not proceed with these unjust indictments."
Sullenger addressed the need to reopen the Planned Parenthood investigation using an independent special prosecutor and also called for the reopening of a 2013 murder case against Houston abortionist Douglas Karpen due to his attorney's connections with Anderson.
After the press conference, Rev. Mahoney, Sullenger, and LifeSiteNews reporter Lisa Bourne presented to a representative of the District Attorney's office petitions signed by 110,000 supporters asking Anderson to drop all charges against Daleiden and his associate, Sandra Merritt, who indicted with Daleiden and surrendered in Houston on Wednesday. The petitions were the first batch of those gathered by LifeSiteNews, which is still seeking additional signatures. (Sign the petition here.)
In addition, LifeNews.com is also asking for signatures on a similar petition, which has already gathered tens of thousands of signatures. (Sign the LifeNews petition here.)
Meanwhile, two civil suits continue against Daleiden and the Center for Medical Progress, which were filed by the National Abortion Federation and Planned Parenthood, who are attempting to block the rest of the information collected by Daleiden from being released. Operation Rescue president Troy Newman, who was a founding board member for the Center for Medical Progress, is named in both federal suits.
Read about Texas invoices that further incriminate Planned Parenthood
Read about links between the District Attorney and lawyer for a late-term abortionist
Watch full video of new conference recorded by LifeSiteNews.