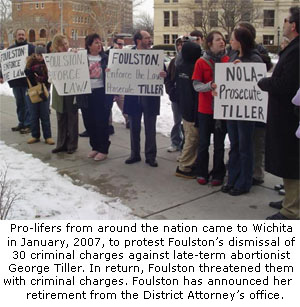 Wichita, KS – Sedgwick County District Attorney Nola Foulston has announced her retirement at the end of her term after 23 years in office. Foulston is best known in pro-life circles as the District Attorney that blocked 30 criminal charges against late-term abortionist George Tiller and impeded two citizen-called grand juries that investigated him.
"Foulston's retirement will represent the end of one of the last vestiges of the old Tiller abortion corruption scandal in this state," said Operation Rescue President Troy Newman. "One by one the people who covered up for illegal abortions and other crimes have been swept from office. Today, the system is beginning to heal and justice is being restored."
In December, 2006, then-Attorney General Phill Kline filed 30 criminal charges against Tiller in Sedgwick County, Kansas. Kline indicated he met with Foulston prior to the filing and discussed the charges with her. The next day, Foulston when to Judge Paul Clark without notice to the Attorney General's office and persuaded him to dismiss Kline's charges against Tiller because she did not agree to the filing. Unbelievably Foulston put forth a legal theory that Attorney Generals in Kansas do not have the authority to file criminal charges unless the local district attorney acquiesces. Kline filed an appeal that was dropped by Kline's successor, Paul Morrison, who defeated Kline in a hard-fought and acrimonious campaign that was aided by an estimated $1 million in under-the-table contributions from George Tiller.
Although Morrison later charged Tiller on 19 lesser charges, Morrison was forced to resign from office after his involvement in a sex/abortion corruption scandal surfaced. Judge Paul Clark died earlier this year from a long illness. There are pro-life conservatives now occupying the governor's and attorney general's offices. The Kansas State Board of Healing Arts and the Kansas Department of Health and Environment, which once covered for Tiller, are now run by others who are enforcing Kansas abortion laws. Tiller died in 2009.
Foulston's office also prevented two citizen-called grand juries from accessing witnesses and documents that would have helped them charge Tiller. Efforts to have a special prosecutor appointed to remove the bias of Foulston's office were unsuccessful.
Foulston and Tiller were personal friends. Local residents have long claimed, but could never document, that Foulston adopted her only son through Tiller, who once stated publicly that he arranged adoptions in return for political favors.
Foulston aggressively prosecuted Karen Myers, a young pro-life activist who was arrested and beaten by Sheriff's Deputies for engaging in a First Amendment protest at a local concert venue. So severe were her injuries that she was transported to the hospital by ambulance from the arrest scene. Myers was later found not guilty at her trial. The county settled a civil suit out of court for an undisclosed amount of money.
Foulston is expected to return to private practice once her term expires in January, 2013.