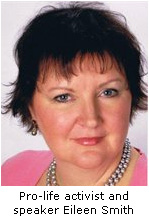 Boston, MA — Operation Rescue is pleased to announce that pro-life advocate and speaker Eileen Smith has been chosen to receive the 2010 Pro-life Person of the Year Malachi Award.
Mrs. Smith was thrust into the pro-life movement when her daughter, Laura Hope Smith, died during an abortion in Hyannis, Massachusetts, by Rapin Osathanondh on September 13, 2007. She immediately began reaching out for assistance to pro-life organizations, including Operation Rescue, as she began her relentless pursuit for justice on behalf of her daughter.
As a result of her actions, Osathanondh was forced to permanently surrender his medical license and vow never to reapply in any state for the rest of his life. His two offices, where he conducted his abortion business, were permanently closed.
On September 13, 2010, exactly three years after Osathanondh took Laura's life, he was convicted of involuntary manslaughter and taken directly to jail in shackles. That same day, Osathanondh settled a civil suit brought by Eileen Smith for $2 million.
In addition, Mrs. Smith has become a noted pro-life speaker who has dedicated her life to ending abortion. "Every time I speak, I believe I put another nail in the coffin of the abortion industry," she said.
"Every step of the way, Eileen was under pressure to drop her efforts to bring Osathanondh to justice and simply walk away. It took an amazing amount of faith for her to persevere and demand that the authorities do their jobs. Her determination amid overwhelming grief is an inspiration to us all," said Operation Rescue President Troy Newman. "We are proud to award her with the 2010 Pro-life Person of the Year Malachi Award."
Each year Operation Rescue presents the Malachi Award to pro-life activists who are impacting the nation for the cause of life. The award is named after an aborted baby that was discovered in an abortion clinic dumpster, whose image has been used nationally to bring attention to the desperate plight of the pre-born.
Previous recipients include Jim Pouillon, who was gunned down during a peaceful protest in 2009, Lila Rose of Live Action Films for her documentation of Planned Parenthood abuses, Dr. Johnny Hunter of LEARN, who is exposing the devastating effects of abortion on the African-American community, Leslee Unruh, who spearheaded efforts to ban abortion in South Dakota, and Phill Kline, the former Kansas prosecutor whose abortion investigations led to 107 criminal charges against Planned Parenthood.