UPDATE: Trial postponed until the week of October 16, 2017.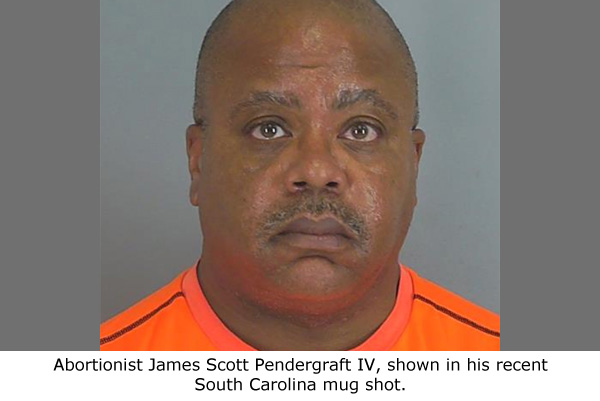 By Cheryl Sullenger
Spartanburg, SC – Nestled in the foothills of the Blue Ridge Mountains, the picturesque community of Spartanburg, South Carolina, will be the sight of a criminal trial that will have implications on the future of a chain of four Central Florida abortion businesses.
James Scott Pendergraft, IV, was arrested on October 5, 2015, during a routine traffic stop. Sheriff's Deputies found in his possession surgical implements that were covered in blood and human tissue from abortions he had illegally performed throughout South Carolina. He was also in the possession of illegal narcotics, such as marijuana, LSD, and drugs used to sedate women for abortions.
Sheriff Chuck Wright announced Pendergraft's arrest without naming him, saying, "We got a guy and a girl early in the week that was a traveling abortionist. He traveled around the state of South Carolina without a medical license, with drugs and with medical tools, performing in-home abortions. So basically, we got an illegal baby killer."
Operation Rescue was soon able to identify Wright's traveling abortionist as James Scott Pendergraft, IV, a high-profile Florida abortionist license was under suspension.
Pendergraft was not licensed to practice medicine in South Carolina, a fact that would later cause serious repercussions for his Florida abortion business.
Pendergraft was charged with five drug-related crimes. An additional five drug counts were added on May 6, 2016, after a grand jury issued indictments against him.
He is scheduled for a jury trial that is set to begin later this week. If convicted, it will surely spell the end of Pendergraft's Florida medical license.
Spartanburg Co Court Trial Roster- Week of 7-24-2017-Hilite by Cheryl Sullenger on Scribd

Meanwhile, the Florida Department of Health revoked the facility licenses of four of Pendergraft's abortion facilities on May 5, 2017. Those facilities are:
• EPOC Clinic, LLC in Orlando.
• Ft. Lauderdale Women's Center, LLC in Ft. Lauderdale.
• Orlando Women's Center, LLC in Orlando.
• Ocala Women's Center, LLC, an Ocala abortion facility that closed in 2015.
The Florida Department of Health cited Pendergraft's arrests as the basis for the facility license revocations. According to Florida law, criminal arrests are disqualifying acts, meaning that even an arrest without a conviction disqualifies the person from employment that requires licensure.
Pendergraft serves as Chief Financial Officer for each facility, which is considered an employee under the law. The abortion businesses continued an employee/employer relationship with Pendergraft even though it was illegal for them to do so, and therefore grounds for revocation of their facility licenses.
Pendergraft's facilities were given 30 days to allow for the orderly winding down of the abortion businesses. However, the revocation orders have been appealed, so the facilities have been allowed to continue operating pending the outcome of the appeal.
Florida Abortion Facility License Revocation Order 5-5-2017 by Cheryl Sullenger on Scribd

Pendergraft's criminal conviction would likely render that appeal a moot point, and force the closure of Pendergraft's seedy abortion chain.
Operation Rescue has caught Pendergraft operating outside the law before. He was ordered to cease and desist his illegal late-term abortion racket that he once conducted in Maryland with the help of abortionist Harold O. Alexander. Alexander's medical license was temporarily suspended as a result.
Operation Rescue also published a video taken by Orlando pro-life activist Michele Herzog showing Pendergraft sneaking in the back door of his EPOC abortion mill in Orlando. According to Herzog, the waiting room was full of abortion patients and there was no other doctor present at the facility, leading her to believe he was about to commit abortions while he was prohibited from doing so by the Florida Medical Board. Herzog called the police, but Pendergraft bolted out the back door and fled the scene before police could arrive.
In 2011, Pendergraft was ordered to pay a judgment of nearly $37 million in a malpractice case that involved a horrific medication abortion inflicted on a woman who was 22.3 weeks into her pregnancy. Medication abortions of the type she received are not recommended after 7-9 weeks of pregnancy. She birthed an extremely premature infant, who survived with serious physical and developmental issues. Pendergraft has dodged efforts by that family to collect on the judgment.
Operation Rescue will continue to monitor Pendergraft's criminal case and his facility licensing case.
"Please join us in praying for justice and for the closure of Pendergraft's horrible Central Florida abortion mills," said Operation Rescue President Troy Newman. "Pendergraft belongs behind bars, and we pray a jury will put him there this week."