Operation Rescue also asks Iowa Medical Board to broaden their investigation.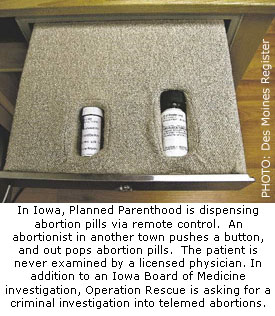 Des Moines, IA – Operation Rescue has filed a formal complaint with the Iowa Attorney General's office asking for a criminal investigation of a remote-controlled push-button Internet abortion pill scheme operated by Planned Parenthood of the Heartland known as "telemed abortion."
"We believe that telemed abortions are illegal for several reasons and may rise to the threshold of criminal negligence," said Operation Rescue President Troy Newman. "Planned Parenthood's scheme to deny women personal access to licensed physicians is a prescription for disaster."
In addition to Planned Parenthood of the Heartland (PPH), the complaint names abortionists Thomas William Ross and Susan Haskell, both osteopaths who are employed with PPH and are known to participate in the telemed abortion scheme.
The complaint centers on five major areas of concern regarding telemed abortions:
1. Violation of the Iowa law requiring that only licensed physicians perform abortions.
2. PPH's remote dispensing practice for abortion drugs RU486 and misoprostol so ignores FDA protocols that they are intentionally endangering the lives of women.
3. Criminal negligence and consumer protections laws may have been violated since evidence shows that Planned Parenthood intentionally exceeds manufacturer warnings and safety limits, and misrepresents to patients the actual failure rate of the medical abortion process.
4. Consumer protection violations regarding insurance company overbilling.
5. Patient abandonment since the licensed physician only speaks with the patient for a brief time over an Internet teleconferencing hookup, and never interacts with the patient again even in the case of emergency.
Operation Rescue has also filed a supplemental information packet with the Iowa Board of Medicine as an amendment to their complaint, along with a request to expand their investigation to include abortionist Thomas Ross.
Operation Rescue uncovered the Iowa telemed abortion scheme during an undercover investigation of abortion clinics throughout the U.S. It published a special report describing the remote controlled abortion process then followed up with a formal complaint to the Iowa Medical Board. The IBM notified Operation Rescue in April that the complaint was placed with an investigator.
In interviews, Planned Parenthood officials indicated that the group had plans to expand telemed abortions to every Planned Parenthood clinic by 2015 beginning with two clinics associated with Planned Parenthood of East Central Iowa. Public outcry against the dangerous push-button abortion process caused PPECI to backtrack from their original statements.
Read the Complaint Narrative