By Cheryl Sullenger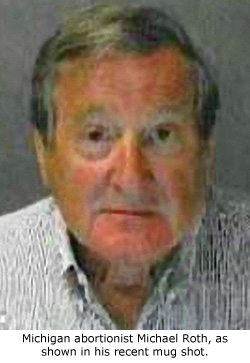 Eastpoint, Michigan – Michigan Attorney General Bill Schuette has criminally charged abortionist Michael Arthur Roth, 74, in two counties with possession of stolen drugs. The charges stem from the discovery of drugs — along with the remains of aborted babies — in the trunk of Roth's vehicle during an investigation into his involvement in a traffic accident last October that critically injured a special-needs child.
Roth has been booked on charges in two counties, both of which released him on $10,000 personal recognizance bonds.
Schuette's June 23, 2016, press release details the charges:
Michigan Attorney General Bill Schuette today charged West Bloomfield doctor Michael Arthur Roth, 74, with possession with intent to deliver schedule 2 narcotic Fentanyl, and 6 counts of identity theft in the 48th District Court. In the 38th District Court in Eastpointe, Roth also faces 3 counts of Larceny in a Building. The charges follow a September 2015 car accident where the drugs, as well as post-conception material, were discovered in Roth's vehicle.
Roth has also formally been charged with violating the Michigan public health code for illegally transporting the aborted baby remains.
The Michigan Board of Medicine filed an administrative complaint against Roth last November seeking the revocation of his medical license for the same offenses. He faces possible revocation of his medical license if convicted of the criminal charges.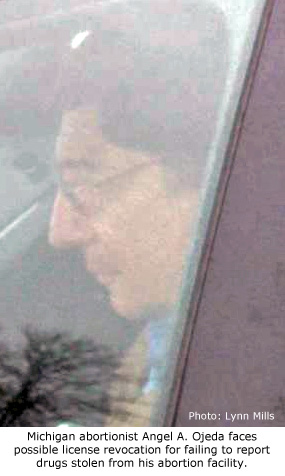 Roth is accused of stealing the drugs from his former employer, Angel A. Ojeda, MD, who operates Eastland Women's Clinic, a Detroit-area abortion facility. A medication aide employed at the facility admitted to helping Roth steal abortion instruments and drugs.
But what was Roth doing with abortion drugs, instruments, and aborted baby remains in his trunk?
It appears that Roth was doing home abortions and being paid in stacks of cash that were found tagged with the names of female patients during a search of his home. However, while Schuette's press release inferred that this is exactly what Roth was doing, it is unknown why no criminal charges were filed against him for unlawful abortions.
Roth had been caught before doing dangerous home abortions. As a result, in 2004, he was disciplined and fined $15,000 then ordered not to perform abortions outside "an approved clinic/hospital/office setting." (Details here.)
"I can hardly imagine the horror of someone's loved one being subjected to a home surgical abortion by this quack," said Troy Newman, President of Operation Rescue. "It just sends shivers up the spine and makes me wonder why Roth still has a medical license."
Now, pro-life activist Lynn Mills, who has long monitored Roth's misdeeds, has obtained documents that show the state's Board of Pharmacy filed an administrative complaint against Ojeda on April 25, 2016, for not reporting the theft of the drugs – including 82 vials of the controlled substance Fentanyl, some of which was found in Roth's trunk. Ojeda also faces a host of other charges, including failure to secure drugs in a locked cabinet, keeping outdated drugs, and failure to maintain drug records.
Other shoddy practices exist at Ojeda's abortion facility, according to the complaint. It notes that an investigator witnessed a registered nurse, who was employed by Ojeda, obtaining the abortion-inducing drug Misoprostol out of an unlocked cabinet and dispensing it to a patient without Ojeda's authorization.
"This whole sordid affair has exposed the dishonesty and corruption that characterize Roth and Ojeda's abortion practices," said Operation Rescue President Troy Newman. "Roth certainly cannot be trusted to obey the law. He has been disciplined many times, and traditional discipline has not worked. Meanwhile Ojeda is engaged in Gosnell-like abortion practices with complete disregard for accepted medical standards or patient safety."
The administrative cases against Roth and Ojeda also reveal systemic problems with the disciplinary process, which is slow to act and designed to be as lenient as possible on offenders, no matter who is hurt it seems.
"Abortionists like Roth are trained by the slow and lax disciplinary process to be re-offenders. They soon come to realize that they will never suffer serious consequences for their actions. The fact that Roth's medical license is not currently under suspension is evidence that serious reforms are needed in the disciplinary process in order to protect the public," said Newman.
Newman recommends that both abortionists never be allowed to practice again, and notes that both deserve long stints in a state prison.
"The Medical Board and other authorities cannot take their eyes off Roth or Ojeda for one minute. People like them are proficient at modifying their behavior as long as they think someone is watching. As soon as they think the authorities have turned their heads, they will be back up to no good," said Newman. "The only real way to protect the public from their dangerous and illegal conduct is to lock them up and throw away the key."
Roth is set to appear in criminal court on July 1 and 7 for pre-trial hearings. Administrative cases for both Roth and Ojeda remain pending.
Additional information can be found in documents maintained AbortionDocs.org.
View Roth's profile on AbortionDocs.org.
View Ojeda's profile on AbortionDocs.org.
View Eastland Women's Clinic's profile on AbortionDocs.org.