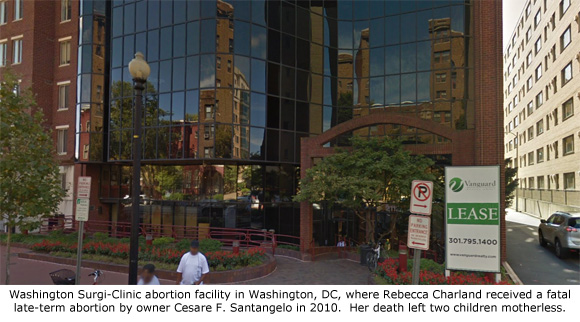 By Cheryl Sullenger
Washington, DC – Court documents obtained by Operation Rescue accused late-term abortionist Cesare F. Santangelo of negligence in the previously unknown death of an abortion patient at his Washington Surgi-Clinic in 2010. That facility is located in Washington, D.C.
According to a 2011 medical malpractice/wrongful death lawsuit filed by the family, Rebecca Carey Charland experienced a complicated pregnancy in the spring of 2010. She suffered from a condition known as antiphospholipid syndrome. That condition causes the immune system to attack proteins normally found in the blood, and can lead to the formation of blood clots, deep vein thrombosis, and miscarriage or stillbirth.
Unfortunately, her condition resulted in the natural death of her wanted pre-born baby in Charland's second trimester of pregnancy.
On May 17, 2010, Charland underwent an ultrasound examination that confirmed her baby, which should have measured 20 weeks 2 days, had tragically died in the womb at 16-17 weeks gestation.
The following day, her physician referred her to Santangelo and the Washington Surgi-Clinic, an outpatient abortion facility, for a D&E procedure to remove her dead baby.
"We don't understand by this obstetrician referred his patient to Santangelo. She should have been referred to a specialist at a hospital due to her complicated medical history. Women that have suffered the death of a baby in the womb obviously require some kind of procedure to remove the deceased child, and we have the utmost compassion for anyone who has to endure that tragic situation. But the procedures should be done in hospitals under the supervision of legitimate physicians, and not done by quack abortionists at ill-equipped outpatient clinics. In this case, the mother's death at Santangelo's abortion clinic was avoidable and needless," said Operation Rescue President Troy Newman.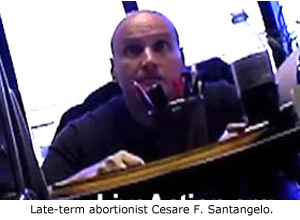 As instructed, Charland reported to the abortion facility on May 19, 2010, for the first stage of the abortion, which included the insertion of laminaria dilators. The family claims in their 2011 lawsuit that she was never told that her condition posed increased risks of hemorrhage and the development of another condition known as disseminated intravascular coagulation (DIC), which can be fatal.
Charland was also not informed that she could have the procedure in a safer, hospital setting. However, Santangelo held no hospital privileges, meaning he would have had to refer her – and the fee he expected to earn – to another physician, which he did not do.
The following day, May 20, Charland returned to the clinic for the completion of her procedure, but she was told she was insufficiently dilated. A second round of laminaria dilators were inserted and she was instructed to return to the clinic the following day.
However, about two hours later, Charland returned to the Washington Surgi-Clinic and began to complain of abdominal pain. She was told to wait for Santangelo to return to the clinic.
Finally, at around 2:38 pm, Santangelo conducted Charland's abortion procedure. By 2:45 pm her oxygen saturation levels dropped and she began to turn blue, according to the anesthesia record. Eleven minutes later, she was intubated. Her pulse and blood pressure continued to drop. At that time, she was given epinephrine, atropine, and bicarb.
At 2:58 pm – thirteen minutes after Charland began to turn blue – an ambulance was finally called.
The ambulance arrived five minutes later. Paramedics found Charland a bluish-purple color and immediately began chest compressions, which improved her color after only one minute of application. Santangelo, who is accused of waiting too long to call for emergency help, never attempted to perform appropriate resuscitation efforts, according to the complaint.
Then, at 3:12 pm, Charland's pulse became undetectable, causing paramedics to use a defibrillator on her heart.
At 3:25 pm, she was transported by a D.C. Fire and Rescue unit to George Washington University Hospital where it was determined that Charland had suffered massive uterine bleeding that brought on DIC, a clotting disorder that causes more hemorrhaging and cascading organ failure.
Charland was declared dead on May 29, 2010, leaving two minor children motherless as well as a grieving husband and family.
An autopsy was conducted on Charland, which revealed a grotesque truth.
A microscopic analysis of her lungs showed skin cells, lango hair (fine hair that usually covers a baby in the womb), and fat – what the coroner referred to as "fetal debris." This finding meant that bits of her dismembered baby entered her bloodstream – possibly through a uterine laceration or perforation — and lodged in her lungs.
The lawsuit accused Santangelo of ignoring Charland's medical condition and the prescribed blood-thinning medication she was taking that contraindicated an outpatient D&E procedure.
He was also accused of failure to provide proper informed consent of her risks, failure to respond to Charland's symptoms and complaints, and failure to conduct proper medical procedures, failure to refer her to a physician who could conduct her procedure is the safety of a hospital setting.
When Charland showed signs of respiratory distress, he negligently failed to apply proper resuscitation procedures, or call 911 in a timely manner.
Charland's family sought financial damages in the amount of $80 million.
The lawsuit, filed on May 27, 2011, actively progressed until January 17, 2012, when the case was suddenly dismissed at the request of all parties just before depositions were to begin, according to court records. The dismissal is an indication that the parties reached an out-of-court settlement agreement for an undisclosed amount.
"It seems particularly tragic that this woman had to needlessly suffer and die at the hands of a greedy abortionist after enduring the heart break of losing her child. Even though this happened a few years ago, I want to extend my condolences to her surviving family, who suffered a tremendous loss of a wife, mother, child and sibling," said Newman. "I hope they got a huge settlement out of Santangelo. It's just too bad that it wasn't enough to put him out of business, and halt his negligent abortion practices that continue to endanger women."
A D.C. Department of Health file obtained through the Freedom of Information Act reveals that Santangelo's career has been fraught with a series of troubling botched abortions. At least two hospitals that have had to deal with these bad outcomes have lodged complaints against Santangelo.
A 2013 complaint filed by a department head at George Washington University Hospital addressed concerns about several of Santangelo's "bad outcomes related to abortion." The review panel was reluctant to discipline Santangelo, at one point noting, "He is the 'go to" referral for these kind of high risk cases."
Instead the panel made the following suggestions for changes Santangelo might consider adopting:
1. Consider conducting terminations with ultrasound guidance to reduce risk of uterine perforation;
2. Improve provider-referring hospital communication; and
3. Ensure that pre-consent and consent to surgery forms are uniform and do not have any differences, thereby preventing miscommunication.
All three of these issues were present in the Charland case, yet the George Washington University Hospital complaint was closed without further action.
Another complaint was filed by a nurse at Spotsylvania Medical Center in Virginia complained of a botched abortion, which was also closed by the Medical Board, as were several other patient complaints that were all found to be without merit.
"Serious oversight issues exist in Washington D.C.'s Department of Health and Medical Board that is giving Santangelo a free pass as he continues to wreck havoc with women's health and lives," said Newman. "Instead of putting Santangelo's career first, they should be protecting the lives of women and their babies first. Turning a blind eye the way they have will only lead to more dead women, dead babies, and mourning families. At some point, it has to stop."
Source Documents:
2011 Complaint
Court timeline of case
DC Health Dept. FOIA document with complaints listed (as of 11/9/2017)