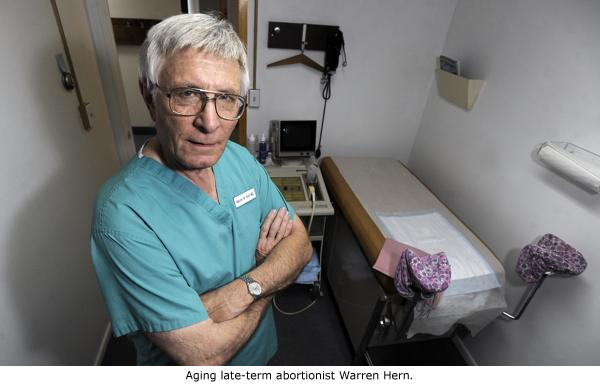 By Cheryl Sullenger
Denver, CO – Court proceedings are expected to resume today in a Federal malpractice trial against late-term abortionist Warren Hern that was brought by a Nebraska woman, who suffered horrendous injuries due to a nightmarish botched abortion in 2013.
Hern, who is nearly 80 years of age, is a nationally known late-term abortionist who operates the Boulder Abortion Clinic in Boulder, Colorado. He is one of the few abortionists that openly admit to conducting abortions throughout all nine months of pregnancy.
Operation Rescue was the first to report on the malpractice case on April 26, 2016, after obtaining court records that described a botched abortion horror story.
In 2013, Jennifer D. was pregnant with a wanted baby. However, after her pre-born son was diagnosed with "severe cerebral abnormalities" near the end of her second trimester of pregnancy, she was encouraged by her personal physician to get an abortion. She was referred to Hern's Boulder Abortion Clinic.
After her dilation and evacuation (D&E) dismemberment abortion, which was done days away from her third trimester, Jennifer suffered complications that included break-through bleeding over the course of the next few months. Finally, she was taken into surgery to remove a foreign object that had been discovered cutting into her uterus. Unable to remove it, her doctor was forced to perform a hysterectomy.
When the object was finally analyzed, it was determined to be a four-centimeter slightly curved section of bone from her aborted baby's skull. [Read the full report.]
The trial began on January 8, 2018, with jury selection in the Denver Federal Courtroom of Judge Phillip A. Brimmer. The process took all morning and into the early afternoon with a total of 21 jurors being excused for various reasons until, at last, nine citizens – 6 jurors and 3 alternates — were selected to sit on the jury and decide the case.
Plaintiff's opening statements began shortly after 2:30 p.m., followed by the defense's opening statements, according to courtroom minutes.
Jennifer's complaint had accused Hern of failing to examine the baby's remains to ensure the abortion was complete, and misrepresenting that he completed the abortion without performing adequate diagnostics that would have detected the skull fragment.
Hern's defense, as expressed in other court records, is that Jennifer's hysterectomy was unnecessary and the fault of her own physician. He argues his own follow-up care exceeded the standard of care.
To open the plaintiff's case, Jennifer took the stand and testified for a half hour before court was recessed for the day.

On Day Two of the trial, Jennifer once again took the stand to testify for nearly an hour and a half, after which the judge excused the Jurors and conducted a "discussion" regarding decorum during witness examination. There was obviously some need for this discussion. Based on this writer's experience in attendance at many hearings and trials, often such discussions comes as the result of overt reactions from observers in the gallery.
In fact, according to the courtroom minutes, after a recess, there was continued discussion regarding a member of Hern's legal defense team, Amy Cook-Olson, who had interaction with a spectator. Such interaction is usually frowned upon by judges and earn a stern warning.
Jennifer was on the stand testifying the rest of the day. The subject of her testimony was not recorded in the court room minutes.
Day Three began on January 10, with Jennifer again taking the stand for another two hours of testimony.
"It's very stressful to be grilled on the stand for the better part of three days, especially for someone who has to relive a trauma," said Operation Rescue President Troy Newman, who is no stranger to a courtroom as a plaintiff, a defendant, and as an observer. "Jennifer was brave to endure that."
Next up was a video deposition of Dr. Mark Carlson, the gynecologist who performed Jennifer's surgery and ensuing hysterectomy. This video was played in lieu of live testimony. Later in the afternoon the testimony of Dr. Alan Torrell, a pathology specialist from Omaha, Nebraska, was heard through another videotaped deposition.
The day concluded with yet another video deposition of plaintiff's witness Dr. Robert Arias, a psychologist from Lincoln, Nebraska, who specializes in neuropsychology and behavioral sciences.
While the details of these video depositions are unknown, court records offer hints as to where the plaintiff's case is headed. A pathologist might well discuss the bone fragments removed from Jennifer's uterus, while a psychologist would be qualified to discuss Jennifer's mental condition, pain, and suffering that is alleged in her complaint.
Day 4 began with a discussion outside the presence of the jury concerning taking witnesses out of turn. Usually the plaintiff's attorneys will present their full case, followed by the defense's witnesses.
For whatever reason, next up was testimony of Warren Hern as presented in the form of another video deposition, which is unusual given that Hern was likely present in the courtroom. That video continued until the lunch break, after which plaintiff's next witness Dr. Regan Theiler took the stand – this time, in person.
Theiler is a known abortionist who formerly served as Medical Director for Planned Parenthood of New Hampshire. She is currently employed at the Mayo Clinic in Rochester, Minnesota.
It is common in cases involving abortions to have someone who does them testify for the plaintiff. For example, during the Kermit Gosnell abortion/murder trial in 2013, a Planned Parenthood abortionist, Charles David Benjamin, testified for the prosecution against Gosnell and his horrific practices.
Theiler testified for the remainder of the day.
Jurors were dismissed and Judge Brimmer conducted a discussion about "confidentiality of upcoming witnesses," which is perhaps a harbinger of what can be expected when the trial resumes on Tuesday, January 16, 2018 at 8:30 a.m. It is expected to conclude on Friday.
Operation Rescue will continue to closely follow this case, especially since reporting on it has been blacked out by Colorado media. The only coverage of this trial so far has been one brief story from a Nebraska newspaper, which was then covered by pro-life media outlets.
Read Court Room Minutes:
• Day 1, January 8, 2018.
• Day 2, January 9, 2018.
• Day 3, January 10, 2018.
• Day 4, January 11, 2018.