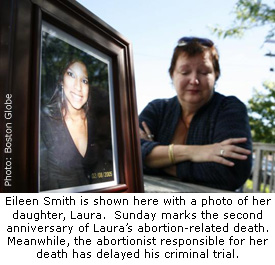 Barnstable, MA – Trial has been delayed in the manslaughter case of abortionist Rapin Osathanondh, who is accused of killing Laura Hope Smith during a botched abortion on September 13, 2007. Originally set for trial this month, the case is undergoing the all-too-common delays associated with cases involving accusations against abortionists.
The next status conference is scheduled for September 25, 2009, with no trial date on the horizon.
"As we come up on the second anniversary of Laura's tragic death, it tries our patience to think that justice has not been done," said Operation Rescue President Troy Newman. "However, we do take comfort in knowing that Osathanondh's medical license has been permanently surrendered and his two abortion clinics are closed. Osathanondh will never kill another mother or baby by abortion again. That makes the waiting slightly easier to bear."
Osathanondh committed Smith's abortion without having proper staffing or emergency protocols in place. Smith suffered life-threatening complications from the same drug that killed Michael Jackson, Propofol, and died on the abortion table.
"Laura died for the same reason [as Jackson]: carelessness, criminal negligence and recklessness," said Laura's mother, Eileen Smith.
Operation Rescue was the first to publicize Laura's death and worked with Eileen Smith to bring her daughter's killer to justice.
As a result, Smith filed a complaint with the Massachusetts Board of Registration in Medicine, which resulted in the surrender of Osathanondh's license, a move considered to be disciplinary by the Board. She worked with the District Attorney's office pursue criminal charges, and filed a civil suit against Osathanondh.
This was a huge victory for pro-life groups aiding Smith, yet the media has done little to cover the story.
"Where was the press when my daughter Laura died at the hands of an abortionist?" asked Eileen Smith. "I have to believe that [the lack of coverage] is only because the media's bias toward abortion determines what makes news."
"Silence by the media only serves to keep women ignorant of the dangers inherent to an abortion industry that refuses to comply with the law. This intolerable situation is only exacerbated by prosecutors that rarely bother with enforcement. Conditions at our nation's abortion mills are so bad that we have yet to find one that comports with the law," said Newman. "We pray Osathanondh's eventual trial will spotlight this crisis so that other women can be spared from suffering Laura's fate."