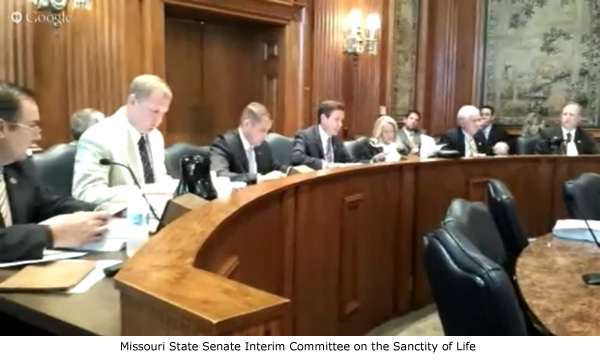 By Cheryl Sullenger
St. Louis, MO — Is Planned Parenthood above the law? Developments in Missouri may finally answer that question and in the process could help tear away the veil of secrecy under which Planned Parenthood currently operates.
The Missouri Senate Interim Committee on the Sanctity of Life, headed up by Committee Chairman Sen. Kurt Schaefer, is recommending contempt charges against Mary Kogut, president and CEO of Planned Parenthood of the St. Louis Region and Southwest Missouri, and James Miller, owner of Pathology Services, Inc., which issues pathology reports for all abortions done at Planned Parenthood's St. Louis abortion facility.
Kogut and Miller were issued subpoenas for documents by the Committee in November, but a defiant Planned Parenthood announced that they would not comply. By the subpoena deadline, neither Kogut nor Miller appeared before the committee or produced any documents.
"I guess there's something they don't want us to find out," Schaefer stated earlier when Planned Parenthood announced their intention not to comply with the subpoena.
The legislative committee is investigating Planned Parenthood and has already uncovered an illegal relationship between Missouri University and Planned Parenthood's Columbia office that resulted the Planned Parenthood being forced to halt abortions in Columbia.
Now it is trying to get to the bottom of over fifty medical emergencies at the St. Louis abortion facility by subpoenaing medical records related to emergency ambulance transports there over the past several years. Patient privacy is not an issue since the subpoena allowed for patient identifying information to be redacted.
If the Missouri Senate passes a resolution that details Kogut and Miller's contempt, the pair could face 10 days in jail and/or a $300 fine.
"In ignoring the legislative subpoena, Planned Parenthood is sending the message that they are above the law. We hope the Missouri Senate will let Planned Parenthood know that abortion businesses are not exempted from legal compliance," said Operation Rescue president Troy Newman. "This is all about Planned Parenthood covering up for their own wrongdoing and has nothing to do with patient privacy."
Newman said that it is in the public's interest to know why so many women are being hospitalized from botched abortions at the St. Louis Planned Parenthood.
Because of this, Operation Rescue is currently suing the St. Louis Fire Department, which has improperly withheld public 911 records from Operation Rescue in order to protect Planned Parenthood from scrutiny.
"Public records laws cannot just be ignored because an abortion business is involved," said Newman. "This is just another example of how Planned Parenthood has convinced some people in authority that laws somehow do not apply when they are involved."
Missouri has an opportunity to restore the rule of law and hold Planned Parenthood to the same legal accountability as any other business.
"Laws are meaningless if they do not apply equally to all or if they are never enforced. That goes for legislative subpoenas, public records laws, and every other regulation. It's time Planned Parenthood and their cronies are ordered to play by the same rules as the rest of us," said Newman.